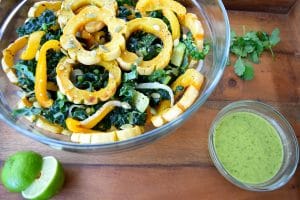 Another summer has flown by. Although, I say that every year. The summer starts out with promises of daily beach adventures, vacations, and plenty of summer fruit. And then, suddenly, it's fall and the only thing I've accomplished is eating copious amounts of summer fruit. The funny thing, though, is that living in Southern California, early fall brings the hottest weather.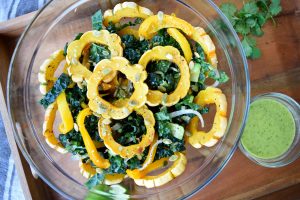 While I'm sad that summer has ended, meaning no more refreshing summer fruit, I'm really inspired by fall food. Fall food is incredibly versatile, it can go from sweet to savory and everywhere in between. A large part of fall food is winter squash. There are a ton of varieties, each slightly different from the other. Most of the time, I just cut squash in half and roast it, using the flesh for whatever recipe I'm in the mood in.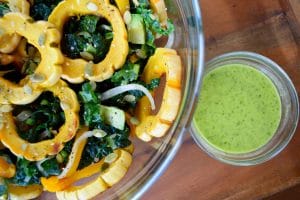 My son loves delicata squash. As a baby, he would eat it all smashed up, gumming it happily. Now, he just devours it piece by piece, skin and all. It has a really lovely and interesting corn-like flavor and seems to be more on the savory side. Inspired by the corn-like flavor, I thought it would work well with other southwestern ingredients like roasted bell peppers, onions, cilantro, and lime. Plus, a salad like this is perfect for a warm Southern California fall day.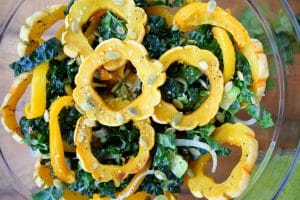 Kale provides the perfect base for this salad because it really needs a sturdy green to hold up to the heavier and stronger vegetables. If you like your kale softer, letting it marinate in the dressing will do the trick. The flavors of this salad are amazing. You've got creamy and sweet and tangy and earthy and it all works. Definitely love this fall salad.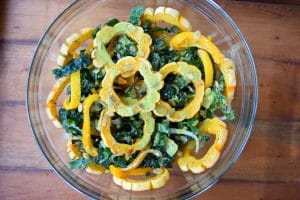 Roasted Delicata Squash and Pepper Kale Salad
Ingredients:
1 delicata squash, sliced into 1/2-1 inch disks and seeds removed
2 bell peppers, cut into strips
1/2 onion, sliced thin
2 Tbsp avocado or olive oil
1 avocado, diced into cubes
3-4 cups kale, cut into strips and tough stems removed
2 Tbsp pumpkin seeds
1 Tbsp hemp seeds
salt and pepper
For the dressing:
juice of 2 limes
1/4 cup olive oil
1 garlic clove
1/4 cup cilantro
1-2 Tbsp maple syrup
salt and pepper
Directions:
Preheat the oven to 415 degrees F. Arrange the squash, peppers, and onion in a baking dish and coat with oil. Season with salt and pepper and roast for about 30 to 40 minutes or until the vegetables are soft and golden.
Prepare the dressing by putting the lime juice, oil, garlic, cilantro, maple syrup, and seasoning in a blender or food processor. Add a few tablespoons of water if needed. Blend until smooth and emulsified.
In a large bowl, mix the kale with the avocado, roasted vegetables, and the pumpkin and hemp seeds. Finish off with the dressing and enjoy!