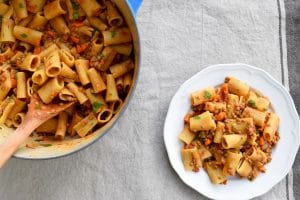 It has been so hot here. Today was over 100 degrees Fahrenheit. I feel like a broken record during early fall in Southern California because I tend to complain a ton about the weather, much to the annoyance of those around me. I definitely do not like dry heat, preferring cool and rainy. So, in a little form of childish protest, I've been making cold weather dishes, like this one.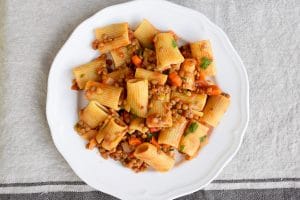 Pasta with lentils is a pretty traditional Italian dish for cooler months. There are a ton of variations, as is normal with traditional dishes, but it's basically a sauce made with protein-rich lentil mixed into pasta. Normally, I like smaller tube pasta for this dish, but the local store I was at only had rigatoni, which also works just fine.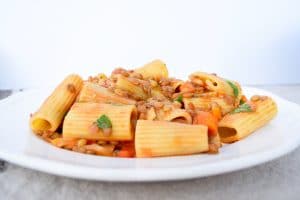 Smaller pasta can be cooked alone with the lentils for an even creamier sauce, but any variation on the pasta is still delicious. This dish is warm and hearty with perfectly rich flavors, not to mention very healthy and nutrient rich.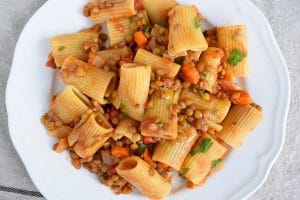 Pasta with Lentils
Ingredients:
2-3 Tbsp olive oil
1/2 onion, diced
2 carrots, finely chopped
1 red bell pepper, finely chopped
3 cloves garlic, minced
1 cup brown lentils
1 cup crushed tomatoes
3 cups water
tube pasta like rigatoni
salt and pepper
1/4 cup chopped parsley
Directions:
Heat the olive oil over medium heat in a large pot. Add the onion and saute until it begins to soften. Add the carrots, bell pepper, and garlic and continue to cook for several minutes, to soften the vegetables.
Stir in the lentils, tomatoes, and water. Season with salt and pepper, bring to a boil, then reduce heat and simmer, covered for about 30 minutes.
Begin to prepare the pasta by bringing a large pot of salted water to a boil. Cook the pasta just past halfway. Save about a cup of the pasta water and pour it into the lentils. Drain the pasta and stir it into the lentil sauce. Cover and continue to cook until the pasta and lentils are tender.
Gently mix in the parsley and serve immediately.