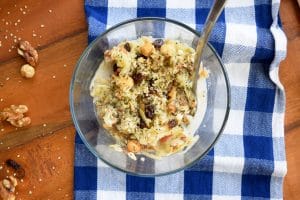 Because dinnertime can be chaotic with a young child, I've been cooking a wider variety of food in the morning and afternoon. Dinners have been simple out of necessity, and several have literally fallen apart in the madness. Early in the day, my toddler enjoys helping me cook, particularly pouring and mixing.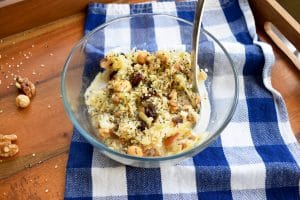 Another rule for toddler cooking is that he needs to taste everything. Sometimes that means little, chubby fingers grabbing fist-fulls of dough or the entire cup of fruit. But he is learning a ton about food and cooking, so I try to take a deep breath and let it go. Our latest joint adventure has been muesli, a dish developed in a Swiss hospital as a healthy breakfast.
Traditional Muesli is soaked overnight to soften the oats, then grated apple, nuts, and dried fruit are added along with milk or yogurt. Unlike granola, the oats are raw and soft. Although you can mix the dry ingredients ahead of time, before soaking, it's more digestible as well as palatable when soaked overnight.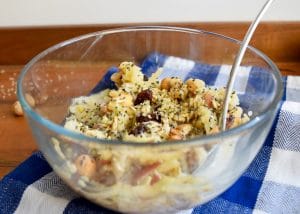 This fall Bircher muesli is was the perfect refreshing and super healthy breakfast. It required minimal work to make a flavor and nutrient packed way to start the day. It's sweet, rich, crunchy, creamy, and tastes just like a crisp fall morning. Feel free to include or exclude any of the fruit and nuts to make it your own, but this has been my favorite combination (particularly the hazelnuts with the apple). I should note, that due to toddler morning chaos, pumpkin seeds did not make it to the muesli in the picture, but are included in the recipe. Luckily, this recipe is super flexible and always delicious.
Simple Fall Bircher Muesli
Ingredients:
1 cup rolled oats
3 cups water
1 apple, grated
juice of 1/2 lemon
1 tsp cinnamon
1/4 tsp nutmeg
1/2 tsp salt
2 Tbsp maple syrup
2-3 Tbsp chopped walnuts
2-3 Tbsp pumpkin seeds
2-3 Tbsp hazelnuts
2-3 Tbsp raisins
1 Tbsp hemp seeds
1 Tbsp chia seeds
almond milk, for serving
Directions:
Soak the oats overnight in the water. Drain the next morning. Stir in all of the ingredients and top with milk. Enjoy cold.