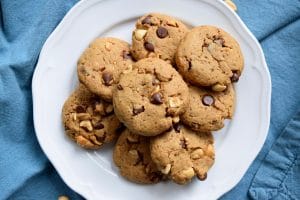 With the heat, we haven't been spending very much time outside around here. We will attempt an outing or some time in the backyard before giving up once the sweat starts pouring.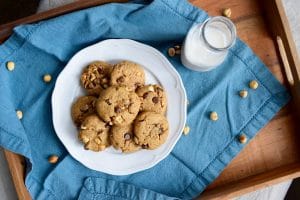 But I'm running out of things to keep my toddler occupied with inside. Like most children his age, he has the attention span of Dori, so it becomes a priority to keep him safely involved in anything. When he gets bored from his rotation of toys, we cook together.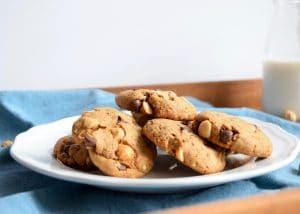 I've been wanting cookies, in that kind of I desperately need cookies now way. I was originally just going to make some chocolate chip cookies, but I had all these roasted hazelnuts calling to me. And in a cookie? The perfect match.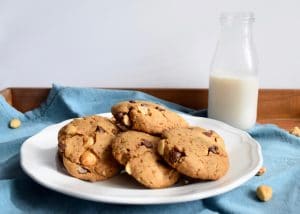 I can't get enough of these cookies. They have the spirit of Nutella in them, with the chocolate and hazelnuts. But broken down into it's parts, it's incredible. Gooey, sweet chocolate plus crunchy hazelnuts all wrapped up in a perfectly soft cookie.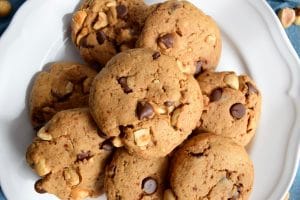 Chocolate Chip Hazelnut Cookies
Ingredients:
2 1/4 whole wheat pastry flour
1 tsp baking soda
1 tsp baking powder
1/2 tsp salt
1 cup coconut sugar
2/3 cup vegan butter or coconut oil
1/4 cup almond milk
1 tsp vanilla extract
3/4 cup chocolate chips
1/2 cup chopped roasted hazelnuts
Directions:
Preheat the oven to 350 degrees F. Line a baking sheet with a silicone mat or parchment paper.
In a large bowl, mix the flour, baking soda, baking powder, and salt together. In a separate bowl, whisk the melted butter/oil and coconut sugar. Pour the almond milk and vanilla into the sugar mixture and mix well. Add the wet ingredients into the dry and mix well.
Fold the chocolate chips and hazelnuts into the dough. Roll the dough into 1 tablespoon balls and flatten into 1/2 inch disks. Arrange on the baking sheet and bake for about 10 to 12 minutes. Let cool completely on a cooling rack before enjoying.