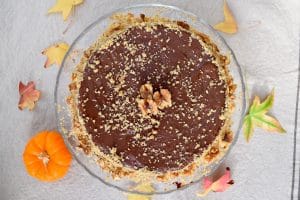 I'm still having so much fun with fall food. Like with the start of every season, I go a bit mad with seasonal produce. It's exciting to have all this new stuff to experiment with and it's nice to have all of this new inspiration in the kitchen.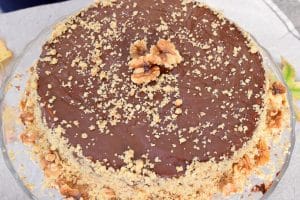 I know a ton of people are sick of pumpkin. And just as many are all about the hype. I walked into Trader Joe's this week and was a bit overwhelmed with the endless amount of pumpkin products. But, I love pumpkin and am choosing to ignore the haters as well as the hype and make all the pumpkin goods for my pumpkin loving heart.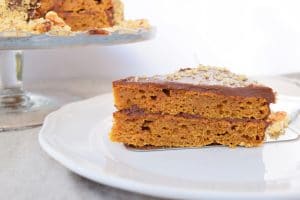 I don't normally make cake because, to be totally honest, I kind of suck at cake decorating. I can never seem to get the frosting smooth and then I never know what to do after that. This cake was no different. After struggling to get the sides of the cake nicely frosted (with a squirmy and whiney toddler), I discovered a little trick that ended up working really well. I crushed up some walnuts and just stuck it to the side of the cake and voila! Edible decoration.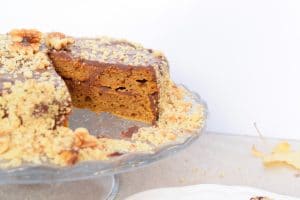 This cake is amazing. The frosting tastes slightly like coconut, but is all chocolate-y goodness. And the cake? Moist and pumpkin-y and a show-stopping fall dessert. The best part is that it doesn't have to look pretty to taste this good.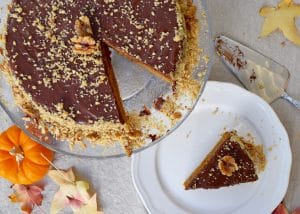 Clean Pumpkin Cake with Chocolate Frosting
Ingredients:
2 1/4 cup whole wheat pastry flour
1 tsp cinnamon
1/4 tsp nutmeg
1/4 tsp ginger
1/2 tsp salt
2 1/4 tsp baking powder
1/2 tsp baking soda
1 cup almond milk
3/4 cup coconut sugar
1 cup pumpkin puree
1/4 cup coconut oil
1 Tbsp apple cider vinegar
1 tsp vanilla extract
For the frosting:
1 cup coconut butter
1/2 cup cocoa powder
1/2 cup maple syrup
3-4 Tbsp almond milk
Directions
Preheat oven to 350 degrees F. Grease two 8 inch cake pans.
Mix the flour, cinnamon, nutmeg, ginger, salt, baking powder, and baking soda in a large bowl. In a separate bowl, whisk together the milk, sugar, pumpkin, oil, vinegar, and vanilla extract. Pour the wet into the dry and mix well.
Pour the batter into the cake pans and bake for about 20-25 minutes, until a toothpick comes out clean. Let cool completely on a cooling rack before frosting.
For the frosting, heat the coconut butter until melted. Use an electric mixer to whip all ingredients until smooth and fluffy. If the frosting is runny, firm it up by chilling it for about 30 minutes.
Frost the cake and enjoy!