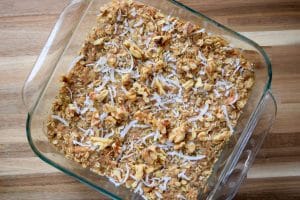 Mornings around here are chaotic. My toddler goes from sleeping to tornado status in seconds, demanding food and toys and chasing the dogs. We usually have to rush downstairs to let the dogs out before one of them has an accident (they won't wait more than a few minutes). Once downstairs, I'm met with demands for breakfast. It's a bit jarring to wake up to so much energy, so breakfast has to be easy to make with a toddler and delicious enough to boost my mood.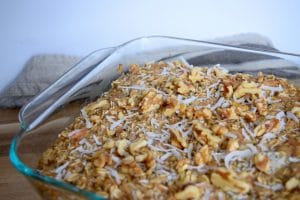 Baked oatmeal fits the bill, especially for the upcoming cooler months. It has all the creamy and warm properties of oatmeal, but the slower cook makes it sweeter with a more cake-like consistency. I like to grate apples and add banana for both texture and sweetness. This baked oatmeal has all the sweetness and flavor that it needs just from the bananas and apple.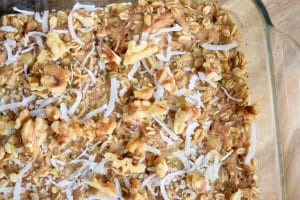 I like to top this dish with nuts and coconut, but it's fantastic on it's own, straight from the casserole. It's super easy to mix everything up quick and then pop it in the oven. This banana apple baked oatmeal is sweet, creamy, soft, satisfying, and so delicious.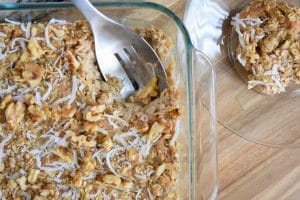 Banana Apple Baked Oatmeal
Ingredients:
2 cups rolled oats
1 tsp cinnamon
1/2 tsp salt
1 3/4 cup almond milk
2 apples, grated
2 ripe bananas, mashed
1 tsp vanilla extract
1 Tbsp coconut oil
Optional toppings: walnuts, coconut, hemp seeds
Directions:
Preheat oven to 375 degrees F. Mix the rolled oats with the cinnamon and salt in a large bowl. Whisk together the almond milk, apples, bananas, and vanilla in a separate bowl. Mix the wet into the dry until fully incorporated.
Grease an 8 x 8 casserole pan with coconut oil. Pour the oat mixture into the casserole and bake for about 40 minutes, until the oats are soft. Enjoy with toppings like walnuts, coconut, and hemp seeds.