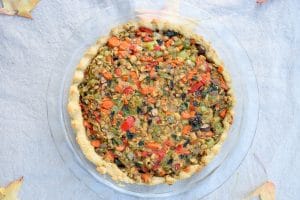 I have a major thing for pastry crust. It's flaky and buttery and satisfying, but the best part about it is that it can easily go from sweet to savory. I'll admit that I've totally made pastry with no filling just to snack on.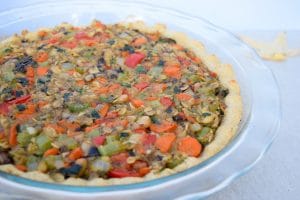 This recipe started when all I wanted was pie, for dinner. With a growing toddler that also needed to eat, I knew I couldn't just eat apple or pumpkin pie. So I made a veggie-packed savory tart that hit the spot perfectly.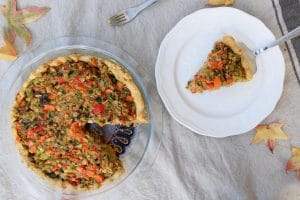 I've seen various vegan savory pies and tarts on Pinterest, but I instead adapted the recipe from my Lentil Loaf to make the filling for this tart. Instead of lentils, I used cannellini beans as the protein base and an assortment of vegetables for flavor and texture. It's an awesome alternative to the Lentil Loaf and makes for a really pretty and delicious holiday entree.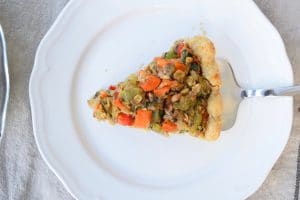 The vegetables in this tart/pie are pretty flexible, meaning you can omit or include any veggie you want. The ones I selected for this recipe I think all work really well together to create a hearty, texturally pleasing, and delicious meal. And oh my is this good. Definitely our next holiday entree!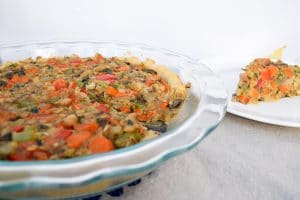 Savory Veggie Tart
Ingredients:
For the filling:
1-2 Tbsp olive oil
1/2 onion, diced
2 carrots, peeled and finely chopped
2 stalks of celery, finely chopped
1 red bell pepper, finely chopped
3 cloves garlic, minced
1 can cannellini beans, drained and rinsed
1 Tbsp vegan Worcestershire sauce
2 Tbsp balsamic vinegar
2 tsp Italian seasoning
1 tsp garlic powder
1/2 cup rolled oats
1/2 cup flour
1 Tbsp chia seeds
salt and pepper
For the crust:
1 1/4 cup whole wheat pastry flour
1/2 cup vegan butter or coconut oil
1/4 cup cold water
Directions:
Prepare the crust. In a large bowl, cut the butter into the flour until it resembles bread crumbs (or use a food processor). Mix in the cold water until a dough ball forms. Refrigerate until needed.
Prepare the filling. In a large pan, heat the olive oil over medium heat. Add the onion, carrot, celery, and garlic and cook until fragrant, a few minutes. Add in the bell pepper and mushrooms and continue to cook until the mushrooms begin to soften.
Pour the vegetables into a large bowl with the beans. Using a potato masher or fork, mash the beans into the vegetables. Add in the Worcestershire sauce, balsamic vinegar, Italian seasoning, and garlic powder and mix well. Add the flour, rolled oats, and chia seeds until everything is incorporated. Taste for seasoning and stir in the salt and pepper (it will need lots of salt).
Preheat the oven to 400 degrees F. Roll out the pastry dough into a 1/4 inch dish and press into a tart or pie pan. Pour the filling into the tart, pressing down.
Bake the tart for about 30-35 minutes. Brush the top with olive oil and enjoy!