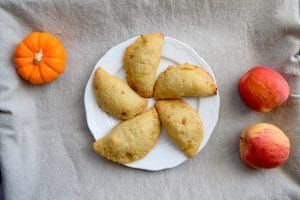 I'm a huge Harry Potter fan. I've mentioned in other posts how my grandmother gave me the first few books when they came out. At 11 years old, I was the perfect age for them and grew up right alongside Harry and his friends. When the movies came out, I stood in line with my friends to be among the first to see them. Like so many others have experienced, Harry Potter became totally woven into my life.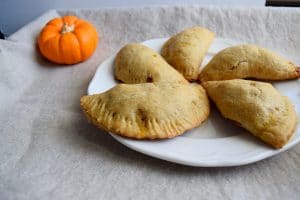 My house is Ravenclaw and my husband's is Slytherin. Although he's still too young to tell, I'm pretty sure Dominik is a Hufflepuff based on his love of food and expert "finding" skills. He recognizes the characters and has seen snippets of the first few movies, so I think we have a young fan in the making.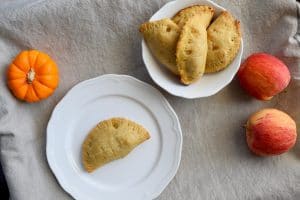 When Harry boarded the Hogwarts Express and started his journey, the book mentions Pumpkin Pasties being sold. Pasties are basically hand pies, typically with a meat filling. Inspired by the idea of a handheld pumpkin pie, I made a modified version of my own. Instead of just pumpkin pie filling, I've added some apple to add some additional sweetness and round out the flavor.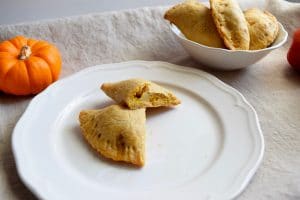 I think Harry, Ron, and Hermione would approve of these pasties. The pastry crust is flaky, moist, and holds up perfectly to being handheld. The filling is creamy, sweet, and has the full range of flavors of fall. I'm tempted to bring these little golden treasures everywhere with me, they're that good. Dominik had a blast folding and shaping these little pies, and I'm just as excited to share the wonders of Harry Potter as he grows up.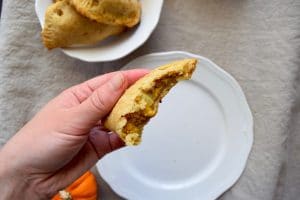 Apple Pumpkin Hand Pies
Ingredients:
For the filling:
1 cup raw cashews
1 15 ounce can pumpkin puree
1/4 maple syrup
juice of half a lemon
2 apples, peeled and diced
1 tsp cinnamon
1/2 tsp nutmeg
1/4 tsp ginger
1/2 tsp salt
1 Tbsp arrowroot powder
For the crust:
2 1/2 cups whole wheat pastry flour
1 cup vegan butter or coconut oil, very cold
1 tsp salt
1/2 cup cold water
Direction:
Soak the cashews for at least an hour in hot water. Drain, rinse and set aside. Preheat the oven to 400 degrees F.
Prepare the crust. In a large bowl, mix the flour and salt. Cut the butter/oil with a pastry cutter into the flour until it resembles bread crumbs or pulse in a food processor. Gently mix in the cold water and place in freezer to chill.
In a blender, puree the cashews, lemon juice, pumpkin, and maple syrup until smooth. Transfer the puree to a bowl and mix in the spice, apples, and arrowroot powder.
Roll out the dough until it's about 1/4 inch thick. Use a large round cookie cutter or wide glass to cut out circles. Fill each circle with a few tablespoons of filling and gently fold over. Use a fork to seal the edges and poke a few holes on the top for ventilation.
Arrange the pies on a parchment paper or silicone mat covered baking sheet. Bake for about 20 to 30 minutes, until golden brown. Let cool and enjoy!