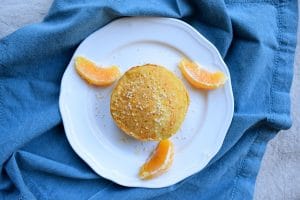 We are currently between two family visits. Last weekend, my husband's cousin and his wife arrived for a visit, which was super fun. And this weekend, my cousin and her daughter are coming. So in between visits, Dominik and I have very rarely left the house and opted for relaxing and calm days.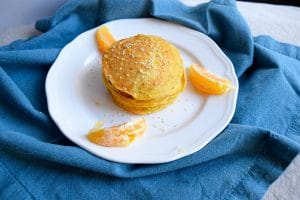 I have another pancake recipe! We make pancakes all the time around here, for no better reason other than we really like them.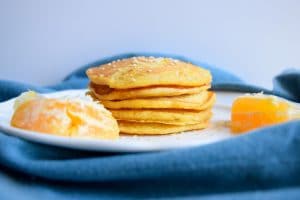 This time, our pancake recipe combines chewy and textured polenta with sweet oranges and nutty sesame seeds. It all balances out really nicely for a super bright and sunny breakfast, perfect for people like me who is not a morning person.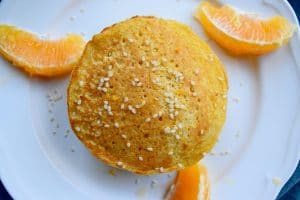 These polenta pancakes are a real breakfast winner. I love the texture from the polenta, it just makes for a more interesting and pleasing pancake. If you like your pancakes sweeter, a few tablespoons of sugar works perfectly. But because I tried to keep these on the healthier side, I omitted the sugar. What a bright and happy way to start the day!
Orange Sesame Polenta Pancakes
Ingredients:
1 1/2 cups whole wheat flour
1/2 cup dry polenta (or corn meal)
1/2 tsp salt
2 tsp sesame seeds
2 tsp baking powder
1 cup almond milk
1 cup orange juice
1 tsp orange zest
2-4 Tbsp oil or vegan butter
Directions:
In a large bowl, mix the flour, polenta, salt, sesame seeds, and baking powder. In a separate bowl, combine the milk, juice, and orange zest. Pour the wet into the dry and stir until just combined. Let sit for 10 minutes.
Heat the oil in a large frying pan and add the batter to the pan according to the desired size of your pancakes. When the batter is bubbling and firm on the sides, flip the pancake and cook on the other side until golden brown. Serve immediately with topping like extra sesame seeds and maple syrup.