A little while back, I gave my closet a complete makeover. It all started with some curiosity about my toddler's clothing. Although I've always been careful about not letting him wear pajamas that had been doused in flame retardant, I wondered about the rest of his clothes. This, of course, led into a great big spiral of research on the harmful effects of fast and cheap fashion for all ages. You can read about it all here. So I totally purged our closets. Having typical American closets, I was still left with quite a bit of clothing, but I needed a few essentials like underwear and yoga pants.
It was pretty easy to find Pact Apparel, just a simple Google search was all it took. But I was ecstatic to find an organic clothing company with affordable and super cute items.
As a stay at home mom, I choose comfort when I get dressed in the morning. It needs to be easy for me to go from the store to sitting on the floor with my kid. Most importantly, it needs to be high quality to stand up to multiple washings of all the sticky and messy things that children wipe on us.
Luckily, Pact Apparel hit all the marks.
Pact Apparel is a "sweatshop free, ethically produced" clothing company that makes simple and high quality apparel using organic cotton. The cotton is GOTS (Global Organic Textile Standard) certified, which means they have to abide by strict rules on both labor and manufacturing. They stick to a handful of basic cuts to keep costs down instead of opting for cheap labor. They cycle through various prints as well as solid colors, all of them are modern and cute.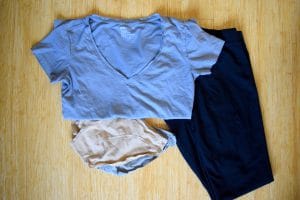 I purchased several pairs of underwear, which are super soft and fit better than the high end not-so-organic ones. After months of wear, they still look like the brand new organic cotton underwear that came in the mail. Many of the previous brands of non-organic underwear that I've owned started to unravel or get wonky elastic not too long after bringing them home. You can imagine my delight in owning undergarments that don't look trashed after regular wear.
I also got their lounge pants, which look like yoga pants with a bit of room around the calves. And I think I want these in every color. They fit perfectly and are the softest and most comfortable pants that I own. I'm particularly fond of the fit and height of the waistband; it's not so low that it's awkward to bend over and it's not so high that I really feel like a mom. The shirt that I got to go with them is equally as comfortable and well made and shows no signs of being tugged on by a two year old. They look polished enough where I've worn them to a nice restaurant with a fancy top.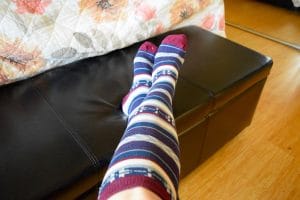 And then there's the awesome free socks I got for purchasing from them. Like everything else, ultra soft and are holding up to serious wear.
They hold sales very regularly, so chances are you can find a great deal on clothing that's already really well priced. Right now you can get 20% off for Free Trade Month. Check them out here: