I think Dominik is going through another growth spurt because his appetite has been insatiable. I can never make meals or snacks fast enough for this kid, and he always wants more. We've been increasing the protein and healthy fats, but I'm starting to think that he just really likes to eat like we do.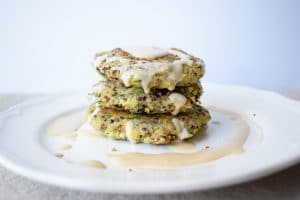 There are certain foods, like fruit, that I have to hide or he will just keep demanding them all day. He's totally fine once we are out of the kitchen and I know without a doubt that he's eating enough (he eats more than I do). But the moment we walk anywhere near the fridge, it's constant whining for bananas, apples, and pasta. Today's recipe was a huge favorite of his.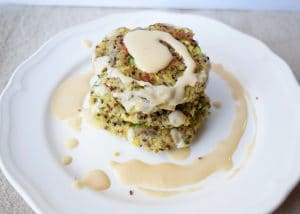 I like to make zucchini or potato patties/pancakes because they are always a crowd pleaser. This time, I added in protein rich quinoa to bulk it up a little more. To complete the flavor profile, I included earthy dill, acidic lemon, and creamy tahini. And although I used wheat flour, any flour (gluten free, too) will work. These patties are so easy to throw together and the flavors are so harmonious and yummy.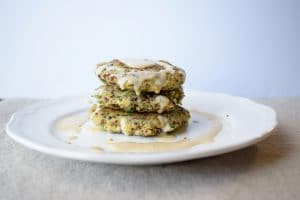 Zucchini Quinoa Patties with Lemon Tahini Sauce
Ingredients:
For the patties:
1 cup cooked quinoa
2 medium zucchinis, grated
2 chia eggs (2 Tbsp chia seeds mixed with 8 Tbsp water)
3 garlic cloves, minced
2 Tbsp dill, minced
1 Tbsp nutritional yeast
1/2-3/4 cup flour (gluten free or wheat)
1/4 tsp lemon pepper
1 tsp salt
2 Tbsp coconut oil
For the sauce:
Juice of 1 lemon
1/4 cup tahini
2 Tbsp olive oil
1/2 tsp salt
a few tablespoons of water to thin it out
Directions:
Prepare the quinoa and all of the ingredients. Mix all of the patty ingredients in a large bowl. If they are too delicate, just add a bit more flour (breadcrumbs work too).
Heat the oil over medium heat in a large frying pan. Form the mixture into patties and cook for several minutes on each side, until cooked through and golden brown.
Whisk together the ingredients for the sauce in a separate bowl. Add more water if you like the sauce thinner.
Serve the patties immediately with the sauce.