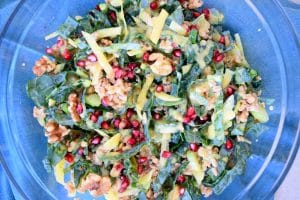 I was super excited to see pomegranates on the grocery store shelves because I look forward to pomegranate season every year. These little jewels look amazing on anything you put them on, their colorful and pleasing to the eye. And, they are insanely delicious and sweet, not to mention packed with antioxidants. But that's not the only reason I love this fruit. My bachelor's degree is in history, which I've mentioned before in other posts. I focused on a few areas of expertise, but my absolute favorite has and will always be Ancient Greece.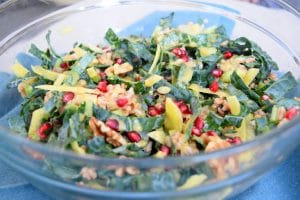 My second grade teacher introduced me to the subject for a social studies unit. She had all of these posters of the different gods and goddesses and we learned the stories behind them. I spent many lunches and recesses going through all of these posters and drinking up the information. We even held our own class olympics. Pomegranates are a key element in the story about Demeter's daughter Persephone and her trip to the Underworld. Because she ate pomegranate seeds during her time with Hades, she is promised to spend 6 months (or 4, depending on the source) of each year in the Underworld. Her mother is so stricken with sadness, that she let's the plants die and winter arrives.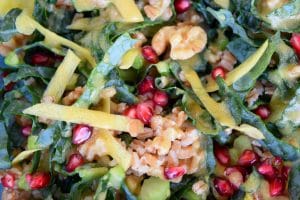 This salad is my own homage to fall. Nutty, earthy, and sweet flavors are combined for the perfect nutritious salad that's filling enough to be it's own meal.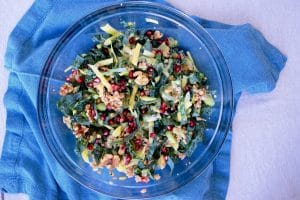 Farro and Kale Fall Salad
Ingredients:
2-3 cups chopped kale
1 cup cooked farro
1 carrot, grated
1 stalk celery, chopped
1/4 cup walnuts
1/4 cup pumpkin seeds
1/4 cup pomegranate seeds
2 Tbsp hemp seeds
Directions:
Mix everything in a large bowl and top with the dressing. That's it! Enjoy!