Every store I go into is packed with Halloween items and pumpkin products. Halloween is my favorite holiday, so I get giddy each time I'm surrounding by all of the spook-tacular stuff. But the stuff in stores isn't exactly eco-friendly and can often be toxic.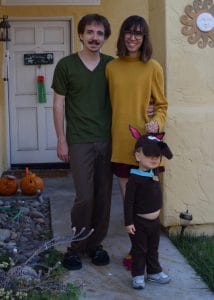 Here are 6 easy ways to have a greener Halloween:
Make the costumes. Let me first say that this is not possible for everyone, especially if you lack time and resources. But if you can, putting together your Halloween costume can be super simple. Chances are, the homemade costumes are made of safer materials and more comfortable. Cheap costumes found in the typical plastic packages can have things like lead, phthalates, arsenic, chlorine, tin, and bromine. Masks usually contain PVC, which is even worse since it's being enclosed around you or your child's face. And costumes don't have to be crazy accurate or require a couture designer, just use what you have. Our family was Scooby-Doo characters, so I was able to find regular clothing that fit the characters. The only thing I made was a Scooby hat for my son's costume.
Check your makeup. Cheap Halloween makeup can contain dangerous levels of lead. Make sure your makeup, especially if using on children, is coming from a reputable source and completely safe for use on skin. Or make your own using mineral based sunscreen and natural food coloring.
Consider hosting the Halloween festivities. It's easier to keep things healthier and trash-free when you're the host. Reusable napkins can be tossed in the washing machine, plates and silverware go in the dishwasher, and decorations can be reused every year. Activities like bobbing for apples, carving pumpkins, and munching on healthier treats keep little bodies healthier.
Make healthier Halloween treats. It's pretty easy to make some swaps when making treats at home. There are class parties that need food and after school snacks to delight kids, which can often be something super sugary and chemically-colored. Refined sugar can be swapped with maple syrup or coconut sugar, refined flour can be replaced with whole wheat, and both fruits and vegetables can be the star of a delicious treat. Try my Pumpkin Cake or Chocolate Chip Pumpkin Muffins, both are refined sugar and flour free and delicious!
Use green decorations. There are so many Halloween decor items that are just tossed every year. Paper streamers, fake cobwebs, and cheap plastic models end up in the trash. Opt for either homemade items or plant based. Homemade wood signs, paper chains, or painted decorations are just a few examples of easy to make things that are also a great seasonal activity for kids. Plant based items like leaves, pumpkins, apples, pine cones, acorns, and more are either edible or biodegradable. Plus, what better way to celebrate something seasonal?
Let it go. Okay, so it's not so healthy or green for kids to come home with bags of candy. But sometimes you just gotta let something go in favor of childhood. With all of their friends and neighbors out trick-or-treating, letting kids participate in community festivities is incredibly important and will create lifetime memories.