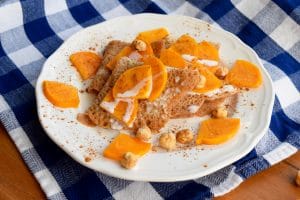 These crepes are the perfect mix of fall flavors. They were one of those happy kitchen experiments that turns out to be the best thing ever. It's like all the stars align to create a dish that is easy, satisfying, and insanely delicious.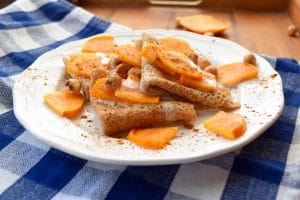 These crepes were definitely a lovely way to cheer me up. My cousin/best friend was here for the weekend and it was every bit as awesome as I imagined it would be. We don't see each other often because she lives so far away, but picking up where we left off was a breeze.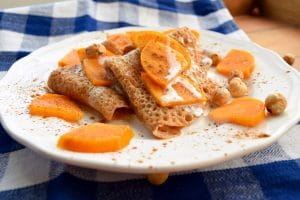 I think the best part about the weekend was the ability for us to just relax in each other's company, chatting for hours. There was no pressure to entertain or keep busy, it was just perfect. Even Dominik relaxed and eased up on the toddler-mayhem. We watched movies, went to the beach, walked in the park, and finally cooked together again.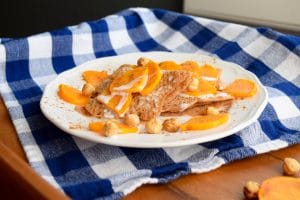 But, after she left, Dominik and I were back to our routines. It was sad and quiet around here, so I've been cooking up a storm. These crepes were definitely a much needed bright spot. Now that persimmons are finally back in season, grab them while you can! This recipe is absolutely scrumptious.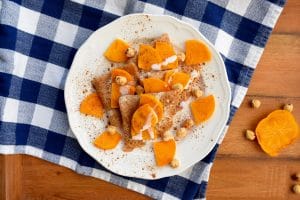 Persimmon Crepes
Ingredients:
3/4 cup spelt flour
1 cup almond milk
1 tsp salt
1/2 tsp cinnamon
1/8 tsp nutmeg
1/8 tsp ginger
scant 1/8 tsp allspice
4 Tbsp vegan butter or oil
2 persimmons, sliced and chopped
1 can coconut cream
1/4 cup hazelnuts
optional: maple syrup
Directions:
In a large bowl, whisk together the flour, almond milk, salt, cinnamon, nutmeg, allspice, and ginger. Place in fridge for about 30 minutes to chill and thicken.
Heat the oil in a large, flat pan over medium heat. Add a few tablespoons of batter and spread it as thin as you can. When the liquid is completely set and cooked, gently flip the crepe over and cook on the other side until golden.
Top the crepes with the persimmon, hazelnuts, and coconut cream. I like to whip chilled coconut cream until fluffy, but this is just as amazing drizzled on. Sprinkle with extra cinnamon and enjoy.