These brownies are every bit delicious as I imagined they would be. Chocolate and orange really were made for each other and compliment perfectly. Awhile back I made Chocolate Lime Brownies that were also delicious, and worked particularly well as a summer dessert. So I used that recipe as a base for something a bit more seasonal.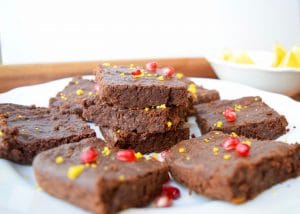 Like so many others, I grew up getting Terry's Chocolate Oranges in my stocking every year at Christmas. I used to look forward to these more than any other holiday treat. Take little bits off of each slice, I try to make them last as long as possible, but they were always devoured by January.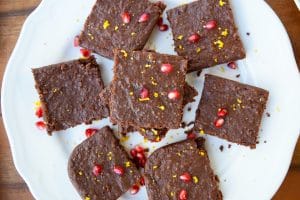 I really wanted to recreate the flavors but use both plant-based and healthier ingredients. Brownies are the perfect carrier for the flavors because it's easy to get that rich, intense chocolate flavor. Plus, the orange juice adds both flavor and moisture which makes these brownies extra delectable.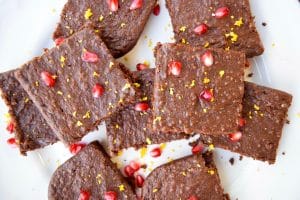 Citrus is such an awesome way to brighten up fall and winter, not to mention seasonal. They work perfect as a holiday treat, fall dessert, or just an afternoon snack. Who doesn't like brownies?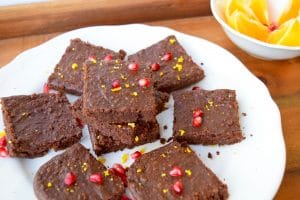 These brownies are moist, rich, sweet, and so yummy. I like to top these brownies with another seasonal fruit: pomegranate. The color pops so nicely with the orange zest and chocolate and the flavor adds an additional layer of flavor deliciousness. I dare you to not eat the entire pan in one sitting.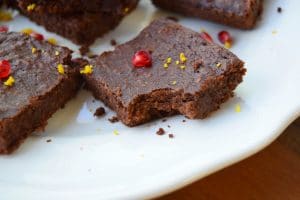 Chocolate Orange Brownies
Ingredients:
2 chia eggs (2 Tbsp chia seeds plus 8 Tbsp water)
1/2 cup coconut oil or vegan butter
1/2 cup maple syrup
3/4 tsp sea salt
3/4 tsp baking powder
1/2 cup cocoa powder
1 cup whole wheat pastry flour
zest of 1 orange
1/4 cup orange juice
Directions:
Preheat oven to 350 degrees F. Prepare the chia egg and set aside to thicken.
In a large bowl, mix the oil/butter with the chia seeds and maple syrup. Mix in the sea salt, baking powder, and cocoa powder. Add the flour and stir to combine.
Fold in the orange zest and juice. Pour into a greased baking pan and bake for about 25 minutes, or until cooked through.
Serve with extra orange zest and pomegranate seeds for extra pizazz. Enjoy!