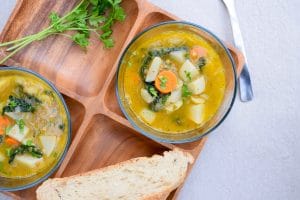 I've made many lentil soups, but this one is definitely my favorite. It is pretty much the definition of "earthy" in soup form with the lentils, turnips, parsnips, carrots, kale, and herbs. A perfect and easy meal for a fall night.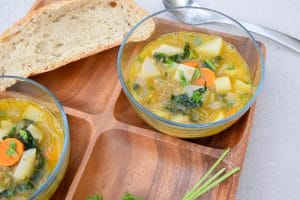 This weekend, my husband and I took a little "stay-cation". We left our toddler with Grandma for our first night away from him, ever. The goal was finally get a full night of sleep because our son still wakes up frequently every night. Unfortunately, my husband woke up in the middle of the night with a terrible migraine and neither of us slept much.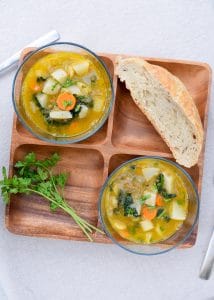 However, the mini-trip was worth it and we had a wonderful time. We stayed at a local resort and had the best vegan meal we have ever had at their super fancy Italian restaurant. The first day we just lounged around reading, watching TV, and eating. The second day, before check out, my mom brought Dominik to us so we could have some family time at the resort pool. It was pleasant, mellow, and beautiful.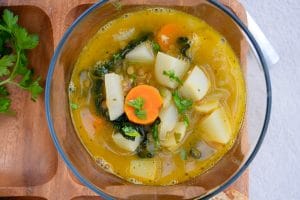 Coming back called for something earthy and nourishing. This soup fits that bill. It's delicious and filling and completely satisfying, with all the flavors working in harmony. The mustard is what heightens all of those lovely root vegetable flavors, so be sure to use a good quality one. Serve this hot with crusty bread for deep, earthy nourishment.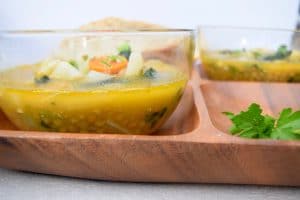 Root Vegetable and Lentil Soup
Ingredients:
2 Tbsp olive oil
1/2 onion, diced
3 cloves garlic, minced
1 large turnip, peeled and diced
2 carrots, finely chopped
2 parsnips, finely chopped
1 cup dry white wine
1 cup green lentils
6 cups vegetable broth
1 cup kale, chopped
1/4 cup parsley, chopped
1 Tbsp dijon mustard
2 tsp Italian seasoning
1/2 tsp black pepper
Directions:
Heat the olive oil in a large pot over medium heat. Add the onion and saute for a few minutes. Stir in the garlic, turnip, carrot, and parsnips and continue to cook for about 5 minutes.
Pour in the wine and lentils and bring to a simmer. Cook for several minutes. Add the broth and bring to a boil. Reduce to simmer and cook until the lentils are soft, about 40 minutes.
Turn off the heat and add kale, parsley, mustard, Italian seasoning, and black pepper. Taste to see if need additional salt. Let sit until the flavors have incorporated and the greens are wilted, about 10 minutes. Serve hot with crusty bread.