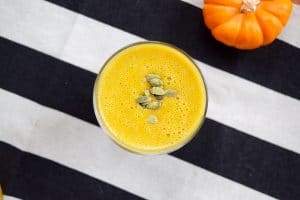 I don't think there is such a thing as too many pumpkin recipes. This smoothie is reason alone for that statement. It's creamy and sweet and has all the awesome flavors of pumpkin pie. A perfect recipe for a Southern California warm and dry Halloween.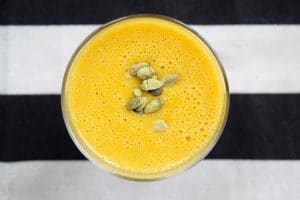 We finally took the Halloween box out of the garage and decorated. Dominik loves all the pumpkin items everywhere, although I'm not sure how costumes will go this year. Last year, when he was Scooby-Doo, I made his costume. I made Scooby's head out of a baseball cap, so it was pretty easy for him to wear it comfortably. This year, he is super opinionated about what he wears, so I'm not sure if he will wear his costume…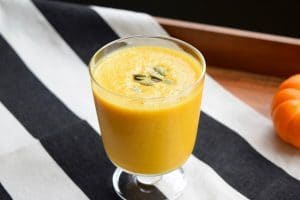 Then there's the issue of trick-or-treating. Although he's old enough to grasp the concept and follow the directions, he gets pretty shy around people. Perhaps the whole "peer" thing will give him a boost of confidence as he watches other little kids walk up to doors to ask for candy. If all else fails and he decides to not wear a costume or trick-or-treat, there's always pumpkin decorating and pumpkin product eating.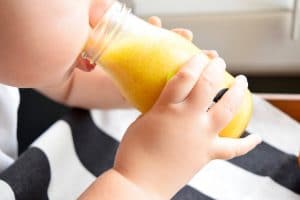 This smoothie is super simple and incredibly delicious. The banana does add a slight hint of flavor, but it's mostly in the recipe for a good, creamy consistency and smooth texture. The pumpkin and spices give it a full pumpkin pie flavor. This recipe is particularly useful when trying to use up extra pumpkin puree. I made another pumpkin recipe (recipe coming soon!) and had a little left, so it worked perfectly for this awesome smoothie.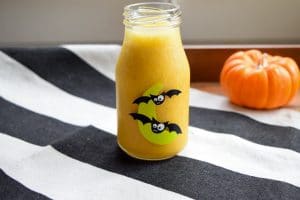 Pumpkin Pie Smoothie
Ingredients:
1/4 cup pumpkin puree
2-3 medjool dates, pitted
1 ripe banana
1-2 cups almond milk
1/2 cup ice
1 tsp pumpkin pie spice
dash of salt
Directions:
Blend all ingredients in a blender until smooth. Enjoy!