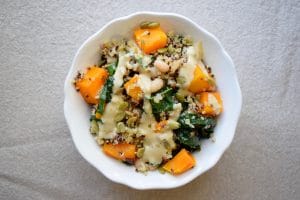 I make Buddha Bowls several times a week. They are incredibly easy and always super delicious. Best of all, they don't require a ton of planning or thought, just a few basic building blocks. For this fall-inspired Buddha Bowl, all the flavor come together perfectly for a super nutritious meal.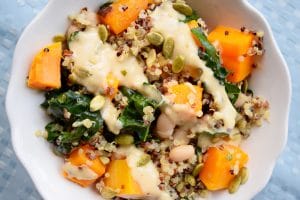 A quick and easy meal is absolutely essential with a toddler. It's like a light switch is flipped once the clock strikes 4 pm and he goes from fun-loving and happy little boy to a whining and crying toddler. Sometimes I start dinner earlier in the day so that it's ready to go. But usually, dinner is made with a toddler whining for food, stealing ingredients, and causing general mayhem. The glory of a meal like this is that it's minimal prep time so I can focus my attention on averting disasters.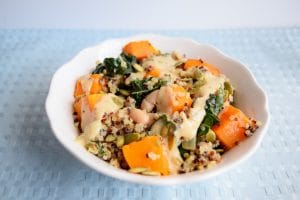 Butternut squash has such a lovely sweet flavor, autumn in every way. It's the base and inspiration for this fall Buddha Bowl. The creamy sauce ties everything together and makes it even more delicious. Such a yummy dish for a cool and busy fall night.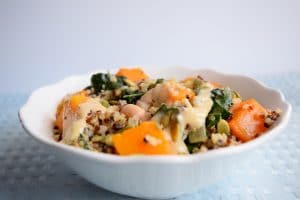 Butternut Buddha Bowl
Ingredients:
1 medium butternut squash, peeled and diced
2 Tbsp olive oil
1/2 onion, diced
3 cloves garlic, minced
1 cup quinoa (uncooked)
2 cups vegetable broth
1 cup chopped kale
1 15 ounce can cannellini beans
1/4 cup tahini
1/4 cup olive oil
juice of 1 lemon
2 Tbsp maple syrup
2-4 Tbsp water
1/4 cup pumpkin seeds
salt and pepper
Directions:
Preheat the oven to 415 degrees F. Toss the squash and onions with olive oil and salt and pepper. Roast for about 30 minutes and then stir in the garlic. Cook about 5 to 10 minutes more, until the squash is soft and cooked through.
Bring the quinoa to a boil with the vegetable broth. Cover and reduce heat to simmer. Cook until the liquid has absorbed.
When you take the squash out of the oven, stir in the kale and beans to soften the kale and warm the beans. Stir in the quinoa and season with salt and pepper if it needs more.
In a small bowl, whisk the tahini, 1/4 cup olive oil, lemon juice, maple syrup and water until it is smooth and creamy. Use more or less water depending on how thick you like the sauce.
Serve in bowls with the sauce drizzled on top and sprinkled with pumpkin seeds. Enjoy!