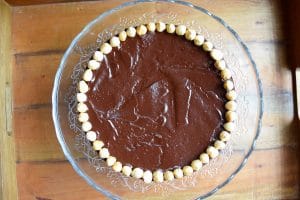 Out of all the recipes on my blog, this is my current favorite. It was one of those recipes that worked so well, I couldn't stop giggling and grinning. I had a similar reaction to my Chocolate Chips Hazelnut Cookies, so there's definitely something about this combination.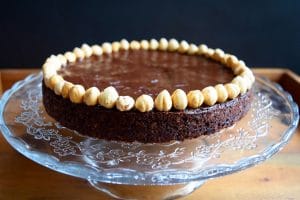 After some serious heat and crazy dry weather, today was finally rainy. I jumped on the chance to bake and enjoy the weather, plus it helped that hubby was home to watch the toddler while I went to work in the kitchen.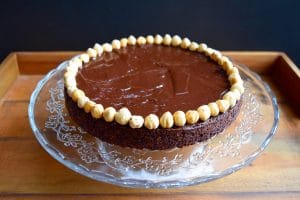 We also went to the pumpkin patch to pick out our family pumpkins. In the past, we have just gone to a small, local place for a quick trip. But, with our families in tow, we ventured a bit farther to a place with rides, inflatable jump-castles, and a petting zoo. Dominik loves animals so we spent the entire time petting goats and feeding turkeys, chickens, and a duck.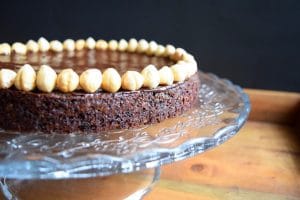 It was nice to have a mellow weekend close to home after such a busy month. To complete the weekend, I was determined to bake something. I've been meaning to make a torte, which is basically a dense and rich cake with a low flour content. I love fluffy cakes, but sometimes you just need something a bit more indulgent.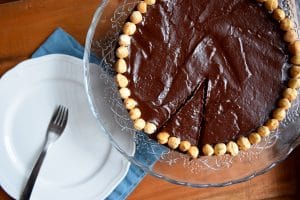 The chocolate ganache recipe makes enough to frost the whole cake with a nice, thick layer. But I had a whiny toddler tugging on my pants, so I opted to just quickly frost the top. Plus, this cake is seriously rich, so just frosting the top was plenty. But, then again, one can never have too much chocolate.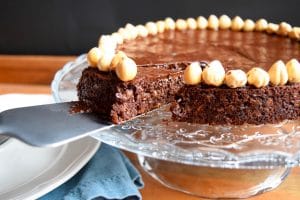 This cake is serious business. It's decadent, rich, and amazingly delicious. Basically, it's a chocolate lovers dream cake. Hazelnuts really help to bring out the chocolate-y flavor, too, which imparting their own decadence. The best part is that this cake is made with whole, real ingredients. It's good to indulge, but it helps when the indulgence is a bit healthier. Whatever this is made out of, though, this torte is an absolute dream.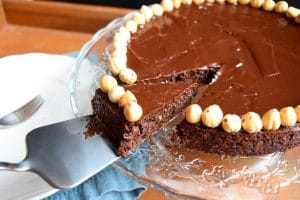 Chocolate Hazelnut Torte
Ingredients:
1 cup ground roasted hazelnuts
1/2 cup flour (all purpose, whole wheat pastry, or gluten free all purpose)
1/2 cup cacao powder
2/3 cup coconut sugar
1/2 tsp salt
1 tsp baking powder
1 tsp baking soda
1 cup almond milk
1 tsp apple cider vinegar
1 tsp vanilla extract
1 tsp coconut oil
Directions:
Preheat the oven to 350 degrees F. Prepare the hazelnuts. Ground whole roasted hazelnuts in a food processor or blender until finely ground (I like to leave some chunks for texture). If you are using hazelnut flour, add a few tablespoons of oil to the wet mixture.
In a large bowl, mix together the ground hazelnuts, flour, cacao powder, sugar, salt, baking powder, and baking soda. In a separate bowl, mix the milk and vinegar and let sit for 5 minutes to curdle. Stir in the vanilla. Pour the wet mixture into the dry and mix well.
Grease a springform cake pan with coconut oil and lay a cut circle of parchment paper on the bottom. If you don't have a springform pan (I don't), a regular 9 inch round cake pan is fine.
Pour the batter into the cake pan and bake for about 25 to 30 minutes or until a toothpick comes out clean. Let cool completely on a cooling rack. Decorate with Chocolate Ganache and more hazelnuts.
Chocolate Ganache
Ingredients:
1 cup chocolate chips (look for stevia-sweetened to keep it refined sugar free, like Lily's)
1/4 cup plus 2 Tbsp almond milk
2 Tbsp coconut oil
Directions:
Heat all the ingredients over a double boiler or in the microwave (use 10 second increments so the chocolate doesn't scald), stirring constantly. When everything is melted and smooth, spread over the cake.