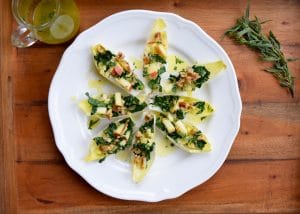 I don't normally make fancy salads or elaborate meals. With a small child, meals need to be fast, easy, and far from fussy. I prefer one bowl meals rather than making several different components. So when I was feeling a bit adventurous and made these salad bites to accompany an already elaborate meal, my husband was a very happy camper.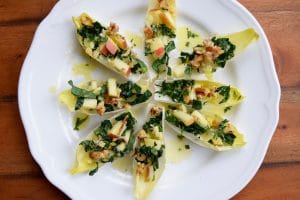 It may look like I went to all this work to create a salad worthy of a high end restaurant, but I'll fill you in on a secret: these are crazy easy and I put them together in no time. My 2 year old son even joined in on putting them together.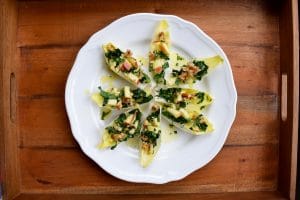 I imagine these would be great for putting out for people at a party, but I think that creating delicious and beautiful meals for just ourselves is deeply satisfying for the soul. We deserve fancy food and it doesn't have to cost very much.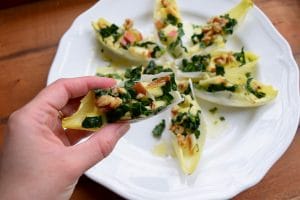 These salad bites aren't just fancy and adorable and perfect for parties, they are seriously delicious. Each ingredient helps to create a harmony of flavors in each bite. The bitter endive, sweet apple, rich walnuts, tangy lemon, and anise-like tarragon are all in perfect sync. Also, eating a salad has never been so easy.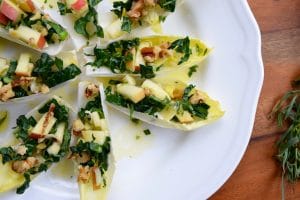 Apple Endive Salad Bites
Ingredients:
3-4 Belgian endives
1 apple, finely diced
1 cup kale, finely chopped
1/2 cup chopped walnuts
1/4 cup olive oil
juice of 1 lemon
2 Tbsp minced tarragon
salt and pepper
Directions:
Peel the outer leaves of the endives off until you have about 15-20 leaves set aside. Finely chop the cores of the endives and add to a mixing bowl.
Add the apple, kale, and walnuts to the bowl and stir well. In a separate bowl, whisk together the olive oil, lemon juice, and tarragon.
Arrange the leaves on a plate and fill each with the salad mixture. Top the salad bites with the dressing and salt and pepper. Enjoy immediately.