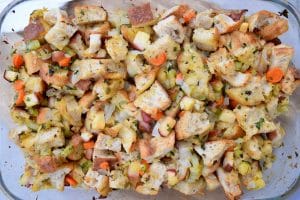 I keep seeing boxes of stuffing mix at the grocery store which has made the whole family crave stuffing. But there's really no need for box stuffing as it's super simple to make. It's really just bread, vegetables, broth, and butter or oil.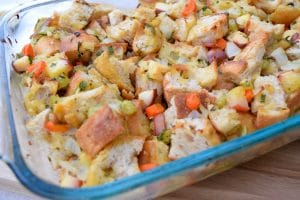 We, like many others, usually only have stuffing once a year on Thanksgiving. My mom makes her Mushroom Stuffing that is always a family favorite. But in recent years, I've discovered the pleasure of making stuffing more than once. It's taken several tries to perfect it, as well as many different flavor combinations, and this is by far the best. I've never seen my husband take so many helpings.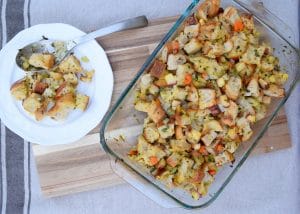 I like my stuffing to be really chunky, that way I get nice big pieces of bread instead of bread crumb mush. But if you prefer your stuffing with smaller pieces of bread, this recipe is just as amazing. That brings me to a really important tip: use good quality bread. Your bread will make or break a stuffing, being that it's the main ingredient, so choose one that you really love.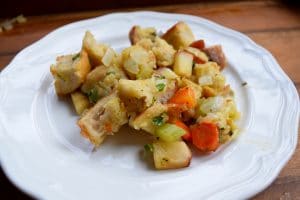 All the flavors of this stuffing work in perfect harmony to make a crowd-pleasing Thanksgiving side that can be enjoyed year round. The pear is the secret that takes this simple stuffing over the top, adding the perfect texture and sweetness.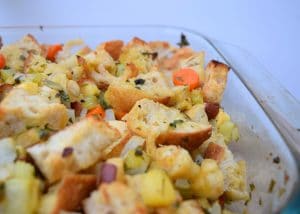 Simple Pear Stuffing
Ingredients:
large loaf bread (about 1 lb)
1 Tbsp olive oil
salt and pepper
1 onion, diced
3 medium carrots, finely diced
3 stalks celery, finely diced
3-4 cloves garlic, minced
2 pears, finely diced
1/2-3/4 cup coconut oil or vegan butter
1/2 cup parsley, minced
1 Tbsp fresh thyme, minced
2 cup vegetable broth
1/4 cup pumpkin seeds
Directions:
Preheat the oven to 200 degrees F. Cut the bread into cubes and spread out on a baking sheet. Drizzle with olive oil and sprinkle with salt and pepper. Bake for about 20-30 minutes to dry out the bread, stirring every so often. Take out and set aside.
Preheat the oven to 375 degrees F. In a large saute pan, heat a few tablespoons of the coconut oil/vegan butter over medium heat. Add the onion and cook for several minutes. Add the carrots, celery, and garlic and continue to cook until the vegetables begin to soften. Add the rest of the oil/butter to melt.
Pour the vegetables into a large bowl. Add the pears, parsley, thyme, and pumpkin seeds and mix well. Mix in the bread until everything is coated distributed. Pour the mixture into a large casserole dish. Pour the broth over the top.
Bake the stuffing for about 30-45 minutes. Halfway through, mix the stuffing to redistribute the liquid and vegetables. Serve hot and enjoy.