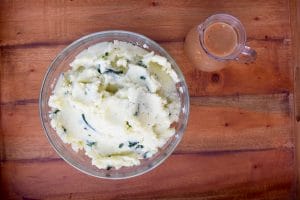 These mashed potatoes are a family favorite. Creamy and perfectly smooth potatoes are given a bit of a healthy boost from kale mashed right in. And the gravy? The gravy is the secret to a side dish so good, you'll want to fill up your plate with nothing else.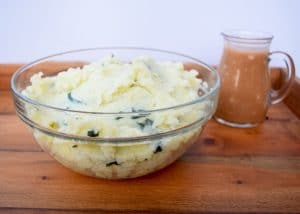 We make mashed potatoes frequently around here. I like to make them as an easy side dish if the meal needs some extra starch or fat as it helps to bulk up a meal. Growing up, we only had mashed potatoes a few times a year (on Thanksgiving and maybe for a treat or two during the year). Most of the sides that my mother made were things like roasted vegetables, pastas, or rice. But my husband had grown up on the "meat and potatoes" diet and has requested them often.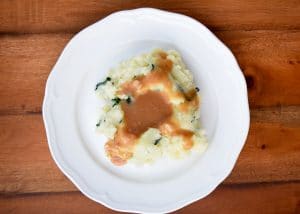 I really wanted to make a mashed potatoes dish that was true to my cooking style and flavor preferences. Sort of a blend of my background with my husband's. So, to perfectly creamy and smooth mashed potatoes, I added some healthy kale. And roux-based gravy gets a boost from the acidic flavors of red wine and the flavor-enhancing qualities of garlic.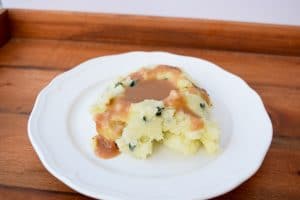 You get a bit of the kale flavor with the potatoes, and it works really well to add some fresh and light flavors to an otherwise heavy dish. The gravy is my favorite part, though. The flavor of the red wine really shines in this sauce with the garlic as a supporting, but deliciously necessary, role. Together, it's like heaven on a plate. I highly recommend the vegan butter over the coconut oil, because the coconut oil gives us coconut flavor, but it will still work. And sure, this dish is perfect for the holidays, but we enjoy it year round.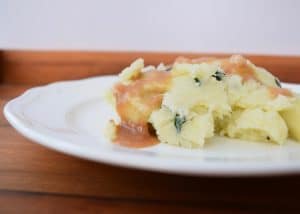 Kale Mashed Potatoes
Ingredients:
~4-5 pounds russet potatoes
1 1/2 cups almond milk
4 Tbsp vegan butter or coconut oil
1 cup chopped kale
salt and pepper
Directions:
Peel the potatoes and quarter them. Place them in a large pot of water and bring to a boil. Boil for about 20 minutes, or until the potatoes are tender. Drain the water.
Mix in the milk, butter, kale, and salt and pepper. Use a potato masher to mash everything until the potatoes are smooth and creamy. Taste for seasoning and enjoy with the Garlic Red Wine Gravy.
Garlic Red Wine Gravy
Ingredients:
1 Tbsp vegan butter
1/4 cup flour
2 cups vegetable broth
1/4 cup red wine (merlot or cabernet sauvignon)
3 cloves garlic, minced
salt and pepper
Directions:
Heat the butter in a small saucepan over medium-low heat. Stir in the garlic and cook until fragrant. Add the flour and mix until it forms a paste. Continue to stir and cook for about 5 minutes.
Pour in the broth and wine and bring to a simmer. Season with salt and pepper. Continue to cook, stirring constantly, until the mixture thickens to desired consistency. Serve on top of potatoes or vegetables.