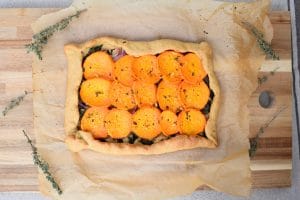 I've mentioned before how I adore pastry dough. That love has sparked another recipe that totally knocked my socks off. Flaky pastry crust holds a savory kale, onion, and sweet potato filling with flavor enhancing garlic, lemon, and thyme. Everything works together perfectly for this fun dish that could be an appetizer, party finger food, or even an easy entree for a weeknight dinner.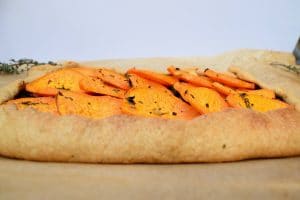 I'm always trying out different ways to use sweet potatoes. They are another one of those super versatile foods that can be sweet or savory, as well as being delicious in nearly every cooking method.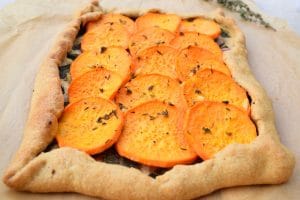 The only way that I don't like sweet potatoes, is when they are pureed and covered in marshmallows. I know that many people love them prepared this way and look forward to seeing them on the holiday table. But for me, it's just too much mushy sweetness, which is not texturally pleasing or interesting to my tastebuds.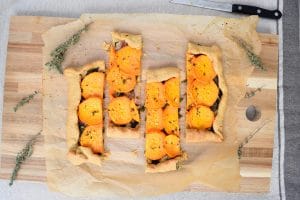 For a holiday side, I usually dice sweet potatoes and then add spices, garlic, and olive oil before roasting them to perfection. But I wanted to find other ways I could include sweet potato in a holiday inspired dish.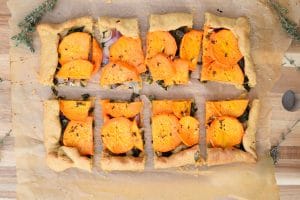 Sweet potatoes are considered one of the healthiest foods we can eat. This starchy vegetable is rich in things like fiber, vitamin A, and B vitamins, and has a long list of other vital nutrients. It's peak season is around from the end of October on through December, making this a seasonally appropriate vegetable for holiday feasts.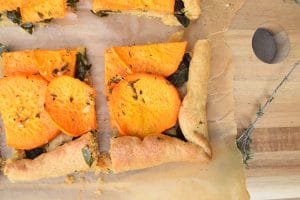 Whether you make this for a holiday or just for a casual family dinner, this tart does not disappoint. It's easy to make and all of the flavors are just incredible together. Sadly, I only got a few slices because my son devoured the rest. He's used to me making pastry dough to make pies, so he kept asking for more "pie". This is definitely a winner this season.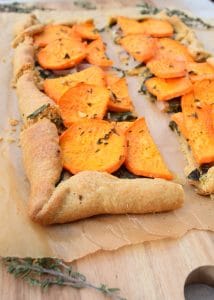 Sweet Potato, Kale, and Onion Tart
Ingredients:
1 1/4 cup flour
1/2 cup vegan butter or coconut oil (very cold)
1/4 cup cold water
1 tsp salt
1 small sweet potato, sliced into thin disks
1/4 cup thinly sliced red onion
1/4 cup finely chopped kale
2 cloves garlic, minced
2 Tbsp olive oil
juice half a lemon
1 Tbsp fresh thyme
salt and pepper
Directions:
Prepare the pastry dough: In a large bowl, mix the flour and 1 tsp of salt together. Using a pastry cutter or food processor, cut the oil/butter into the flour until it resembles bread crumbs. Knead the water into the mixture until a dough forms. Chill until ready to use.
Preheat the oven to 415 degrees F. Put the onion, kale, garlic, lemon juice, thyme, and 1 tablespoon of the oil in a bowl and mix well. Season to taste with salt and pepper.
Roll out the pastry dough into desired shape, I used a rectangle. Put the rolled out dough onto a parchment paper or silicone mat covered baking sheet. Pour the onion and kale mixture on the dough, leaving about an inch border. Place the slices of sweet potato on top and drizzle with the remaining olive oil.
Fold the edges of the dough over to hold in the filling and to create a crust. Bake for about 30-40 minutes, until the crust is golden brown and the sweet potatoes are soft. Slice and serve hot.