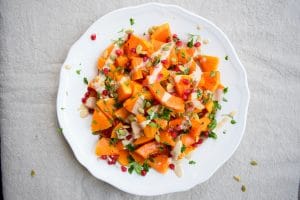 Roasting is my go-to method for vegetables. It does wonders in bringing out the natural sweetness, especially of already sweet vegetables like winter squash. Roasting is also super easy. All I have to do is chop the vegetables and give them a coating of oil and seasoning, then they are popped in the oven and my work is done.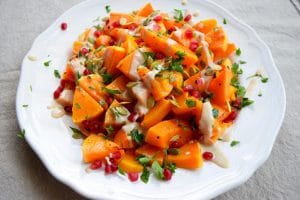 But it doesn't have to stop there. Roasted vegetables can be treated the same way as raw in that they can be smothered in sauce and sprinkled with toppings. Vegetables are so often demoted to a be a boring side but they can be dressed up and enhanced so easily.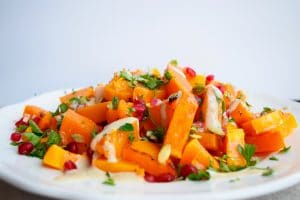 My roasted butternut squash is covered in a creamy tahini dressing that only adds to the velvety texture of the squash. Then, it's sprinkled with fresh parsley for a vibrant flavor, pomegranate seeds for sweetness, and then pumpkin seeds to finish it with a hint of savory crunch.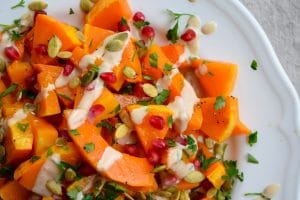 Roasted Butternut Squash with Tahini Sauce
Ingredients:
1 butternut squash; peeled, seeded, and diced
2 Tbsp olive oil
salt and pepper
1/4 cup tahini
2 Tbsp maple syrup
1 tsp garlic powder
2-4 Tbsp water
1/4 cup pomegranate seeds
1/4 cup pumpkin seeds
1/4 cup chopped parsley
Directions:
Preheat the oven to 400 degrees F. Toss the butternut squash in the olive oil and season with salt and pepper to taste. Arrange on a baking sheet and cook for about 25 minutes, or until soft and cooked through.
Prepare the sauce by whisking together the tahini, garlic powder, salt and pepper, and water until it is smooth and creamy.
Arrange the squash on a serving platter and sprinkle the parsley, pomegranate and pumpkin seeds on top. Drizzle with the sauce and serve.