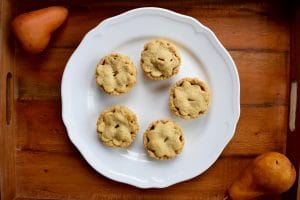 Although we have yet another heat wave to deal with here in Southern California, I am still very stubbornly baking as much as possible. It may be nearly 100 degrees outside but, gosh darn it, I am making pie!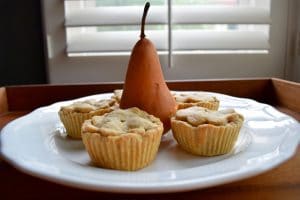 It turns out the Dean from Supernatural is on to something with his love of pie. It really is the perfect food. Think about it. It's flaky, cookie-like dough that surrounds heavenly fillings like apple, pumpkin, coconut cream, berries, lemon meringue, and pear.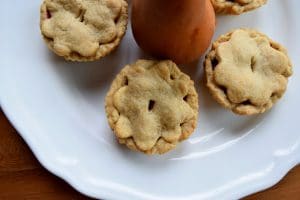 Pear pie is not as popular as I would expect. It has similar qualities to an apple pie: the pieces of pear soften and sweeten to absolute perfection. Blackberries and pear work together in perfect harmony in these cute little pies. The pear gets soft and sweet, and the berries add that needed acidity and boost of candy-like sweetness. The best part is that these come in individual little packages of scrumptiousness.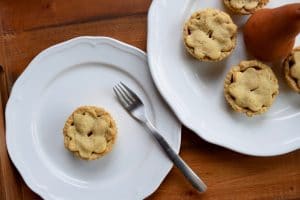 I got the idea of using a cookie cutter for the top from Nigella Lawson's Christmas cookbook, "Nigella Christmas" (which has plenty of recipes that are already vegan or easy to make vegan or just all around great recipes if you're an omnivore). These little pies will delight your holiday guests, or be an amazing little personal midnight snack.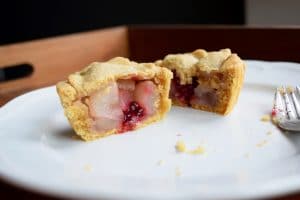 Mini Blackberry Pear Pies
Ingredients:
2 1/2 cups whole wheat pastry flour
1 cup vegan butter or coconut oil, very cold
1/2 cup very cold water
1 tsp salt
2 pears, peeled and diced
1 cup blackberries, roughly chopped
1 Tbsp arrowroot powder
juice of half a lemon
optional: 1-2 Tbsp maple syrup
Directions:
Prepare the pastry dough: In a large bowl, mix the flour and salt together. Using a pastry cutter or food processor, cut the oil/butter into the flour until it resembles bread crumbs. Knead the water into the mixture until a dough forms. Chill until ready to use.
Preheat the oven to 400 degrees F. Mix the pears and blackberries in a bowl. Add the arrowroot powder, lemon juice, and maple syrup (if using).
Split the dough in half and roll it out into thin (1/4 inch thick) sheets. Cut 12 circles (about 2 1/2 inches diameter) from the first half of dough. Press into a greased or lined muffin pan to form cups. Fill each cup with the fruit mixture.
Roll out the other half of the dough and cut out desired shape for the top of the pies. I used a flower shaped cookie cutter. Press onto the top, slitting it somewhere to let steam escape.
Bake for about 30 minutes, or until the center is bubbly and the pastry is golden brown. Enjoy!