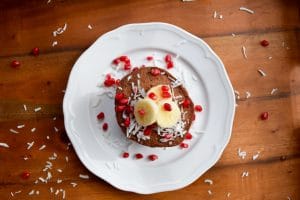 I have a serious thing for chocolate. I prefer it over all over desserts…heck, I prefer it over all over flavors. If I have an excuse to eat chocolate, I will. And then I did something that was almost too perfect to be in existence: CHOCOLATE PANCAKES.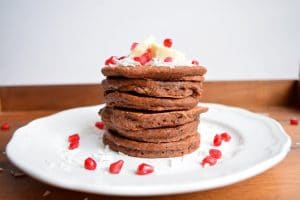 I mean, I've had my fair share of chocolate chip pancakes and will gladly throw some into the batter or on top. But in my quest to eat a bit healthier (and feed my kid healthy foods), I haven't been big on the chocolate chips for breakfast. But then one morning, it struck me: why do I need sugar in my chocolatey breakfast?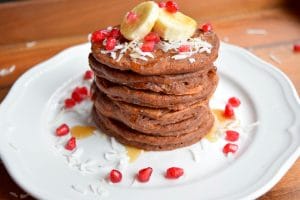 My basic banana pancakes recipe is already naturally sweet from the bananas, plus the bananas make for the perfect texture in a pancake. All I had to do was replace some of the flour with cocoa powder and it was like the breakfast gods were smiling down on my plate. Not a fan of the caffeine in chocolate? Use carob powder! These pancakes are chocolatey and sweet and fluffy and you would never know how healthy they are!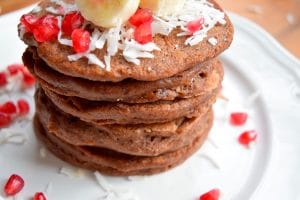 Chocolate Banana Pancakes
Ingredients:
1 3/4 cups whole wheat pastry flour (or your favorite all purpose or whole grain flour, spelt works nicely)
1/4 cup cocoa powder
2 tsp baking powder
1 tsp cinnamon
1/2 tsp salt
1 1/2 cups nondairy milk
2 ripe bananas, mashed
optional: 2 Tbsp coconut sugar
4 Tbsp vegan butter or coconut oil
Directions:
Mix the flour, cocoa powder, baking powder, cinnamon, and salt in a large bowl. In a separate bowl, mix the milk, bananas, and sugar (if you're using it). Then pour the wet into the dry and mix just until incorporated.
Heat the oil in a large frying pan and add the batter to the pan according to the desired size of your pancakes. When the batter is bubbling and firm on the sides, flip the pancake and cook on the other side until golden brown. Serve immediately with topping like banana slices, coconut, pomegranate, and maple syrup.