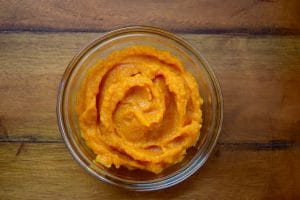 This dip recipe is so crazy easy and delicious, I don't know why I haven't made something similar before. It all started with having no hummus, beans, salsa or dip of any kind. We were low on snacks and I hit that late afternoon "I'm starving" moment. But we still had sweet potatoes.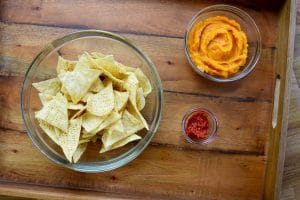 Certain vegetables, when cooked and pureed, have a lovely dip-worthy texture and consistency. Sweet potato is one of those foods, with the added benefit of it being a naturally sweet vegetable that works with so many different flavors.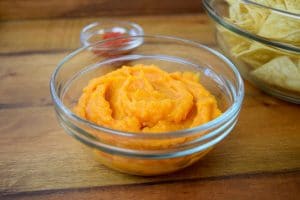 To go with my sweet potato puree, I chose harissa. Harissa is Tunisian hot chili pepper paste and it's essentially a blend of hot chilis, spices, and oil. There are several chili pastes that I use regularly in various dishes, but the particular blend of chilis and spices makes harissa my favorite. It's quite spicy, so use with caution, but it's delicious and sure to elevate a dish from boring to amazing.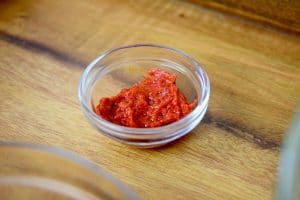 You can make harissa really easily, but I used store bought (Trader Joe's brand in my case). I'm a busy mom and although I try to make most things from scratch, sometimes I need to give myself the easy way out. If you want to make it, knock yourself out! Send me your favorite harissa recipes, too! If you'd rather buy it, harissa can be bought at nearly any well stocked grocery store or even some specialty culinary stores (like Sur la Table or William Sonoma). It's also sold online (Amazon!). If you are really at the end of your rope and can't find it, any spicy chili paste will do, just be sure to account for more or less spiciness.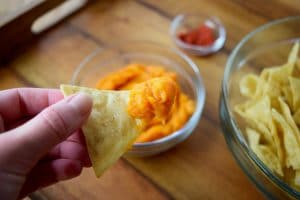 It seems like an almost too simple dip, but it doesn't need anything else. It's creamy, slightly sweet, slightly spicy, with all the perfectly matched flavors of the sweet potatoes and chili paste. It works as a super yummy dip for chips and veggies or it's also really great as a sandwich spread.
Harissa and Sweet Potato Dip
Ingredients:
2 medium to large sweet potatoes
2-4 tsp harissa (depending on how spicy you like it)
Directions:
Preheat oven to 415 degrees F. Peel potatoes and either pierce with a fork or roughly chop into large pieces (it really is up to you, the goal is to get the sweet potato cooked and mushy). Place on a baking sheet and bake until soft and cooked through, about 45 to 60 minutes.
When the sweet potatoes are cooled enough to handle, puree them in a food processor or blender with the harissa. Serve hot or cold with veggies, chips, or bread.