A traditional Thanksgiving is all about the butter, milk, and turkey. Around 46 million turkeys are eaten on Thanksgiving (as well as millions on holidays like Christmas and Easter), which is a lot of turkeys. These turkeys are bred to be abnormally large, which can be uncomfortable and painful, and they are given hormones in order to be even bigger. As is typical with meat producing facilities, turkeys live in inhumane and unsanitary conditions before they are killed.
Now, I know that a plant based diet isn't for everyone, whether it be for personal, health, or cultural reasons. But including a few plant based dishes on the table goes a long way in making a difference for our health, the planet, and animals like turkeys. Plus it's super delicious.
I've put together some tips and tricks for an easier Thanksgiving as well as a plant based meal plan. The meal plan isn't the most traditional, but it's all about delicious recipes and seasonal produce. Make the whole thing or pick and choose a recipe or two to include.
Thanksgiving Tips and Tricks:
Have a playlist of music ready. It puts everyone in good spirits and can help to fill awkward moments.
Keep a bowl of lemons and salt shaker on the table. Guests can use the extra acid and salt to bring dishes to their preferred tastes.
Short on space? Leave it all in the kitchen and let everyone get their food buffet style. It also makes clean up a little easier because less needs to be cleared from the table.
Whoever and however your family begins a meal (a word of thanks or a prayer), plan ahead on this to avoid the awkward "Who is speaking?" mess.
Gather up clutter and mail and store it all in a closet or the bathtub. It's out of sight and makes quickly tidying up a bit easier so the focus can be on the food.
Cook as much as you can in the days before. Casseroles and pie crusts can be frozen weeks ahead and everything but the salad will do just fine if made the day before.
Serve the food that everyone loves. My family isn't big on green bean casserole, so we never make it!
Have activities ready for kids. Arts, crafts, little cooking jobs, etc. can help keep little ones busy and out of trouble.
Don't be afraid of store bought. You don't have to make everything from scratch. Holidays are stressful, so go easy on yourself.
Menu:
Appetizers and Snacks: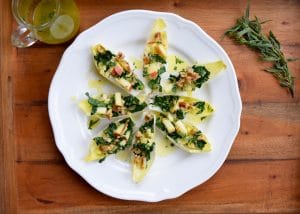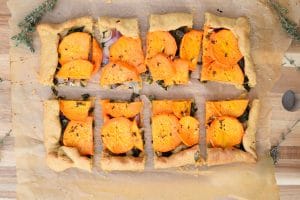 Sweet Potato, Kale, and Onion Tart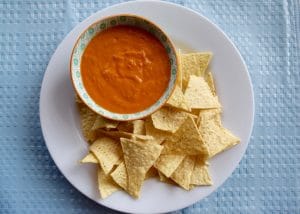 Salads and Sides: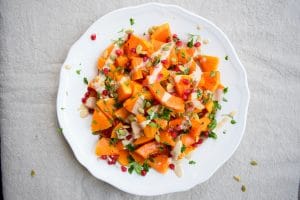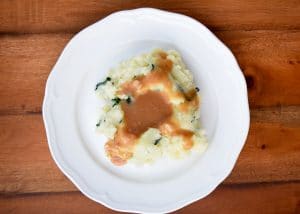 Kale Mashed Potatoes with Garlic Red Wine Gravy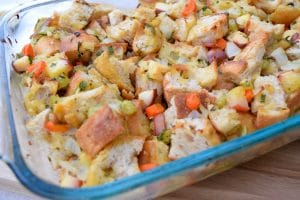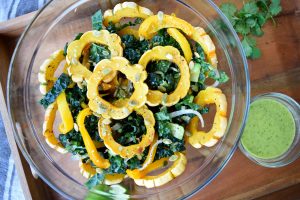 Roasted Delicata Squash and Pepper Salad
Main Dishes: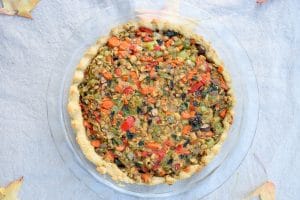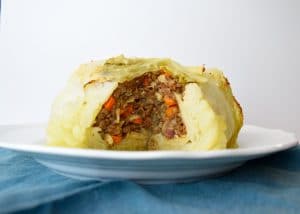 Desserts: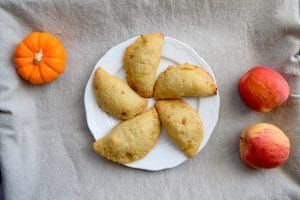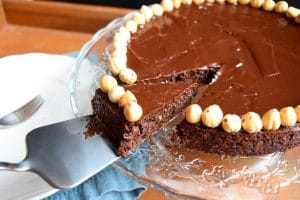 Hope everyone has a wonderful Thanksgiving!