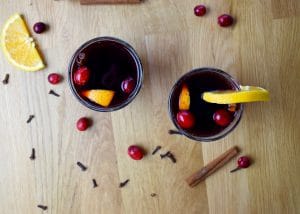 Mulled wine is one of those fall and winter pleasures that smells and tastes exactly like the holidays. It's warm, sweet, spicy, fruity, and boozy. Best of all it's super easy to make and to customize to your specific preferences. For me, I prefer my mulled wine with the winter-y flavors of cranberry and orange.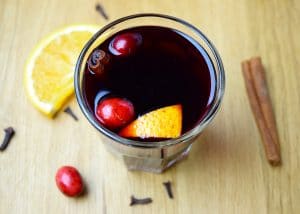 We are big wine people around here. I was never a big drinker, even in college, so hard liquors, shots, and cocktails were not appealing. Wine was preferable because of the differences in flavors, plus it was easy to sip and enjoy a glass without becoming tipsy.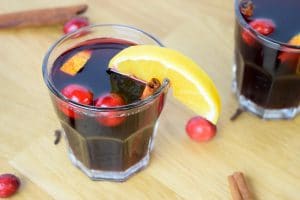 However, now that I have a toddler, I'll admit that much more wine has been consumed. It's a simple, soothing way to finish a day filled with tantrums, whining, and mischief. I definitely consider wine a tool in my "surviving parenting" kit.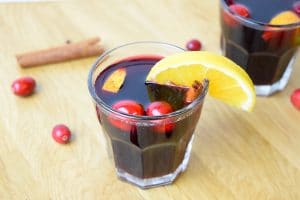 This mulled wine is so crazy easy to make that I don't know why I don't make this more often. It's so delicious, that I wonder why I don't even make this during warmer seasons. It's comforting and warm and sweet and spicy, with just enough tang from the cranberries and orange. A seasonal favorite!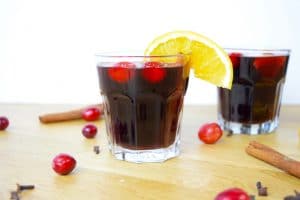 Orange Cranberry Mulled Wine
Ingredients:
1 bottle of your favorite vegan friendly red wine
1/4 cup maple syrup or coconut sugar
1/2 cup fresh cranberries
juice and zest of 1 large orange
2 cinnamon sticks
10 whole cloves
1/8 tsp allspice
Directions:
Put all ingredients in a saucepan and bring to a simmer. Keep the heat low, especially if you don't want to boil out the alcohol. Reduce heat and continue to simmer for about 30 minutes to an hour. I like to mash the cranberries a bit for more bitter cranberry flavor, but leave them alone if you like sweeter wine.
Strain the wine and enjoy hot or warm with garnishes like orange peel, orange slices, cinnamon sticks, and cranberries.