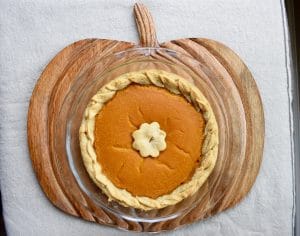 I am pretty proud of this delicious vegan and sugar free pumpkin pie. The filling is velvety and sweet and packed full of pumpkin flavor.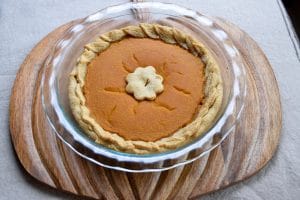 I also decided to be a bit brave and attempt a fancy crust with a toddler in the same room! He cut the center flower out all by himself (with a cookie cutter) so it took center stage on our pie. If you want a similar little pastry decoration, simply set aside enough dough to make a shape and bake separately. Then plop it on top when the pie's done! I put the center in a bit too early, though, so the filling cracked a bit.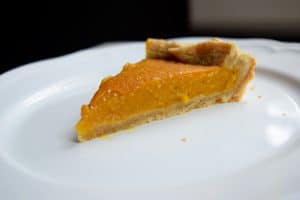 Pumpkin pie is one of those foods that we look forward to every fall and winter. My husband, when given the chance, can knock out an entire pumpkin pie by himself. But when he cut refined sugar out of his diet, that was one of the foods that he was sad about not eating. Well, husband, don't worry because I've got your back.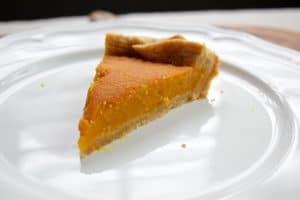 Needless to say, this pie didn't last too long. My husband ate most of it, but I couldn't help but go back for multiple slices. This pie is also nut free because I don't particularly like the flavor of cashews in a pumpkin pie. It's creamy and smooth filling tastes just like fall ought to taste. Yum!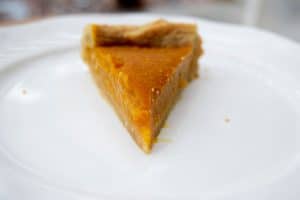 Pumpkin Pie
Ingredients:
2 15 ounce cans pureed pumpkin
2 Tbsp arrowroot powder
1/2 cup oat flour
1/2 tsp vanilla extract
1 cup nondairy milk
1/2-3/4 cup maple syrup
2 tsp cinnamon
1/2 tsp nutmeg
1/2 tsp ginger
1/2 tsp salt
Pie crust dough:

1 1/4 cup whole wheat pastry flour
1/2 cup vegan butter or coconut oil
1/4 cup cold water
Directions:
Preheat oven to 350 degrees F. Prepare the crust. In a large bowl, cut the butter into the flour until it resembles bread crumbs (or use a food processor). Mix in the cold water until a dough ball forms. Refrigerate until needed.
In a large bowl, mix the pumpkin, arrowroot, oat flour, vanilla, milk, maple syrup, and spices.
Roll out the pastry dough into about 1/4 inch thin sheet and press into a pie pan. Crimp or decorate the edges to your liking.
Pour in the pumpkin filling into the crust and bake for about 20-30 minutes or until the crust is golden. Let the pie cool and chill completely before serving to let the filling firm up more. Enjoy!