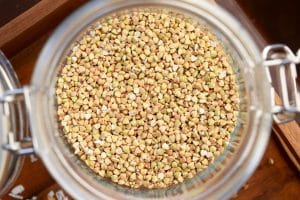 Buckwheat porridge is a nutrient packed way to start a cold, crisp morning. It starts with buckwheat groats, which is basically buckwheat in it's whole grain state. It's nutty and chewy and super delicious. Plus, it's gluten free and can even be prepared raw.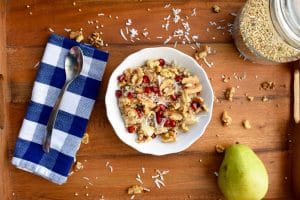 It is December now, so I am starting to think about decorating for the holidays. As my son gets older, it gets more exciting for him to see all the decorations and actually participate in the festivities. We have a little "Charlie Brown" tree to decorate, as it's quite sparse and sad looking. And although Dominik is nearly 3 and able to help decorate, we are still going to stick to nonbreakable ornaments because…well, toddlers.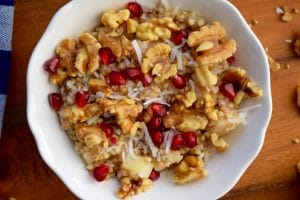 I have, thanks to some thinking ahead, have also finished shopping for gifts. This has alleviated a ton of holiday madness and time that can now be focused on making treats and spending time with family.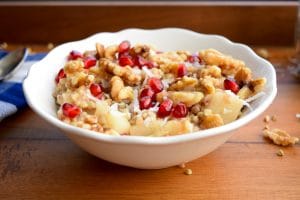 Now that we are in the thick of holiday season, I know that I am not the only one indulging in some seriously sugary and unhealthy treats. I am a big believer in occasional indulgence because it's important to give oneself some self-love. With all the unhealthy food going around, I'm trying to boost my intake of nutrients. Luckily, buckwheat porridge is both healthy and tastes like indulgence.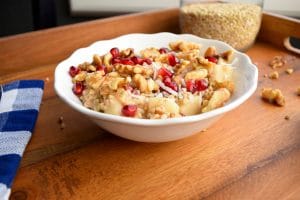 This porridge can be eaten hot or cold, with treatment nearly identical to oats. I prepared them by soaking them first and then quickly cooking them to warm and creamy goodness, but they can also be enjoyed raw and cold for a refreshing meal.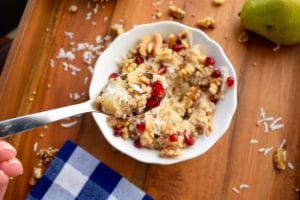 Buckwheat Pear Porridge
Ingredients:
1 cup buckwheat groats
2 cups nondairy milk
1 pear, peeled and diced
2 Tbsp maple syrup
1 tsp cinnamon
1/2 tsp nutmeg
1/2 tsp salt
toppings such as shredded coconut, walnuts, and pomegranate seeds
Directions:
Place buckwheat groats in a bowl with enough water to cover them and let sit overnight.
For raw version: In the morning, drain and rinse the groats. Put the groats and the milk in a blender and pulse a few times until desired texture. Combine all ingredients in a bowl and enjoy.
For cooked version: In the morning, drain and rinse the groats. Put them in a saucepan along with the milk, pear, maple syrup, cinnamon, nutmeg, and salt. Bring to a simmer and cook until creamy and thick. Enjoy with toppings.