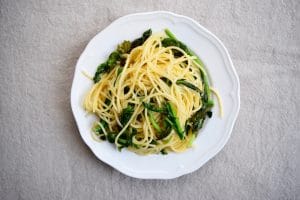 We all have those particular recipes that we request when we go home. These are the meals that brought us joy and comfort growing up, whether it's as simple as a grilled cheese or as complex as handmade tamales. When I go back to my mother's house, broccoli rabe with pasta is a commonly requested comfort dish.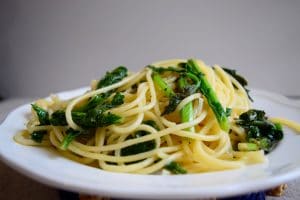 Broccoli rabe, also called rapini, can be a somewhat acquired taste because it's naturally bitter. Boiling it for a little longer can help with this, but I personally love the bitter flavor. It makes the vegetable uniquely delicious, plus it's crazy good for you.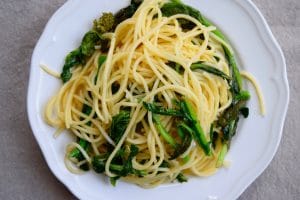 This dish is super easy to prepare and it's simplicity makes it all the more delightful. A pinch of red pepper flakes can spice it up a bit and some vegan parmesan cheese or nutritional yeast can help finish it off, but I like it as is out of the pan. So, thanks mom!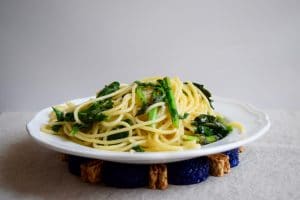 Spaghetti with Broccoli Rabe
Ingredients:
1 pound spaghetti
about 1 pound (or just 1 bunch) broccoli rabe/rapini
3 cloves garlic, minced
1/4 cup olive oil
juice of half a lemon
salt and pepper
Directions:
Prepare spaghetti according to package or recipe directions.
Bring a pot of water to a boil and add the broccoli rabe. Cook the broccoli rabe for several minutes, until wilted and soft. Remove from stove and drain.
Heat the olive oil in a large pan over medium-low heat. Add the garlic and broccoli rabe and cook until the garlic is fragrant (be careful not to burn garlic or overcook broccoli rabe).
Stir the spaghetti into the pan along with a bit of the cooking water. Season with salt and pepper and add the lemon juice. Stir until well combined and serve hot.