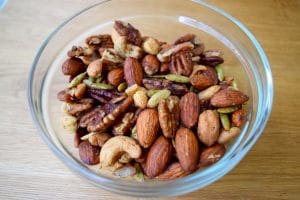 It can be really hard trying to think of what gifts to give certain people, and it's always the same group of people every year that I completely draw a blank on. But it hit me that it really doesn't have to be that complicated to come up with a gift that everyone will enjoy.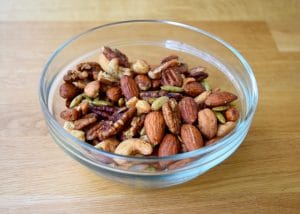 I love edible gifts for this purpose. They are fun, unique, and everyone loves a good treat or snack. There are a ton of amazing ideas out there, everything from mason jar cookie mix to mixed nuts. Of course, knowing dietary restrictions is helpful when selecting an edible gift, but the ideas are still endless. This year, I've made some spiced nuts to give.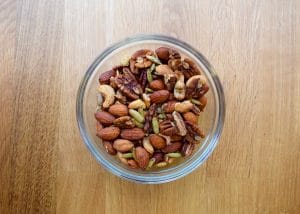 To make these spiced nuts, all I did was have a bowl of raw mixed nuts out while I was making gingerbread cookies. Then, I simply added all the same spices to the nuts! It worked perfectly, even though I was distracted for a few minutes too long and overcooked them a bit.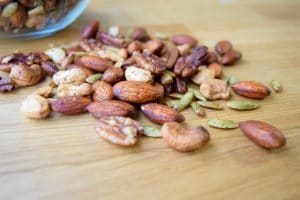 These spiced nuts are so addictive and delicious. They also happen to be sugar free and vegan, not to mention super easy to make. There is one big problem, however. We ended up eating them all before I could gift them!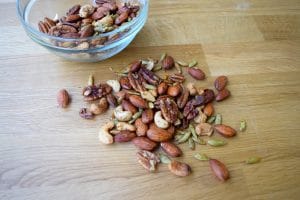 Spiced Nuts
Ingredients:
3-4 cups raw mixed nuts (I used: 1 cup cashews, 1 cup almonds, 1 cup pecans, and 1/2 cup pepitas)
1 tsp cinnamon
1 tsp allspice
1/2 tsp ginger
1/2 tsp nutmeg
1 tsp salt
1 tsp black pepper
1/4 cup coconut oil, melted
Directions:
Preheat oven to 350 degrees F. Line a baking sheet with a silicone mat or parchment paper.
Mix the nuts, spices, and melted oil together in a large bowl until combined. Spread the nuts on the baking sheet and bake for about 10 minutes, or until golden.
Let cool completely and enjoy!