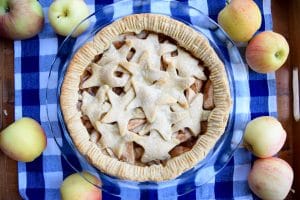 I think that I have more pie or pie related recipes on this website than I do cookies or cupcakes… I'd be lying if I said Dean from Supernatural wasn't a slight influence on my love of pie, but it's an amazing food anyway. I made an apple pie that was heavenly. I'm not a fan of overly sweet and soggy apple pies, so I've been playing around with different ratios. This is finally the perfect apple pie.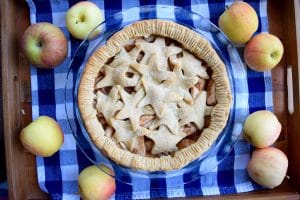 This pie was made with gluten free all purpose flour, because I had a friend with Celiac's joining us for the weekend. I specifically bought a gluten free flour that already had xanthan gum in it, but if you all purpose gluten free flour doesn't have it, be sure to add it. But this pie, as well as all of my pastry doughs, also works really well with fine flour such as whole wheat pastry. As for the filling….well, I didn't add enough apples to the center and it ended up sinking quite a bit more than I would have liked. I adjusted the recipe so that the filling was perfect, but the pie was still delicious.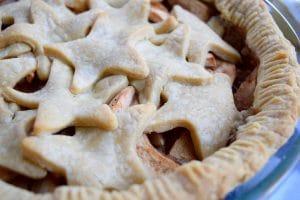 I'm rather proud of this apple pie. The crust is flaky and buttery and I could probably just eat it on it's own. The filling has the perfect balance of sweetness to spice and warmth. For the topping, I used the ultimate lazy person's pie topper: cookie cutter layers. I basically cut out a bunch of shapes from the top of the pie dough and layered them randomly so that I didn't have to worry about a smooth and crack free top. Mission accomplished, plus it's really pretty.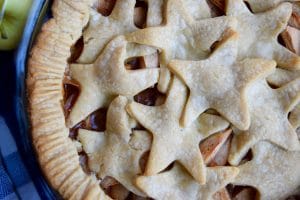 Apple Pie
Ingredients:
about 6-8 apples (about 6 cups), peeled and sliced
1/4 cup coconut sugar
1 tsp cinnamon
1/2 tsp nutmeg
1/2 tsp black pepper
1/2 tsp salt
1 Tbsp lemon juice
1 tsp cornstarch
3 Tbsp flour (all purpose gluten free or wheat)
Prepared pie crust (recipe below)
Directions:
Preheat the oven to 425 degrees F. Mix the apples with the sugar, cinnamon, nutmeg, pepper, salt, lemon juice, cornstarch, and flour in a large bowl.
Divide your pie dough in half and roll out one of the halves. Press into a pie pan and crimp the edges. Fill the center with the apple mixture.
Roll out the other half and cut into strip for a lattice, use cookie cutters for a layered top, or just lay the whole thing on top and cut some air slits.
Bake the pie for about 15 minutes before turning down the heat to 375. Continue to bake for about 30 minutes, until the center is bubbling and the crust is golden. Let cool completely and enjoy.
Pie Crust:
Ingredients:
2 1/2 cups flour (all purpose gluten free or pastry)
1 cup vegan butter or coconut oil, very cold
1/2 cup very cold water
Directions:
Cut the butter/oil into the flour until it resembles bread crumbs (you can also use a food processor). Mix in the water until a smooth dough forms. Chill until ready to use