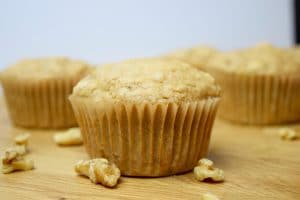 For my family, the biggest celebration has always been Christmas Eve dinner. As a kid, it was an hours long feast of Italian dishes and treats. Although our Christmas Eve dinner has become smaller over the years, it still holds the majority of the focus for holiday food. Christmas morning, however, has always been somewhat of an afterthought. Breakfast usually consisted of whatever pastry we had on hand or a small plate of leftovers. In more recent years, my mom would make coffee cake.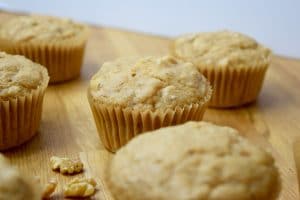 Christmas day nowadays is just too busy for anything that involves cooking. After we have some time as a family to wake up and open gifts, we usually grab whatever's easy and run out the door to start visiting family. But this year, I've thought ahead and have the perfect breakfast, even if we have to eat it on the go.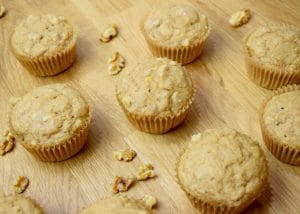 These muffins are incredibly easy to make and keep really well in the fridge or in the freezer. The addition of the walnuts also helps to keep us satiated for longer with the healthy fats and proteins. They are sweet and soft and packed with banana flavor.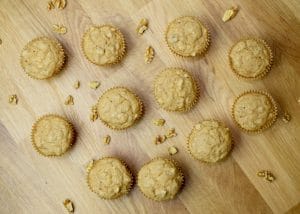 Banana Nut Muffins
Ingredients:
2 cups whole wheat pastry flour
2 tsp baking powder
1/4 tsp salt
1 tsp cinnamon
2 ripe bananas
1 cup nondairy milk
1/2 cup chopped walnuts
1/2 cup maple syrup
1/3 cup coconut oil (sub with 1/2 banana more for oil free)
Directions:
Preheat oven to 350 degrees F. Line a muffin pan with liners or grease well.
In a large bowl, mix the flour, baking powder, salt, and cinnamon. In a separate bowl, mash the bananas and stir in the milk, maple syrup, and coconut oil.
Pour the wet into the dry and mix until incorporated. Fold in the walnuts. Divide among the muffin cups.
Bake for about 15 minutes, or until golden and a toothpick comes out clean. Cool on a cooling rack for 10 minutes and enjoy!