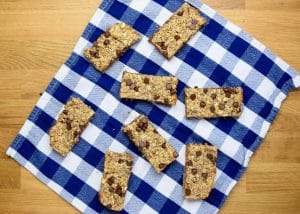 Over the weekend, I like to fill up my fridge with snacks and desserts for the week. With my husband home during the weekends, it's just so much easier than worrying about additional food prep during the week.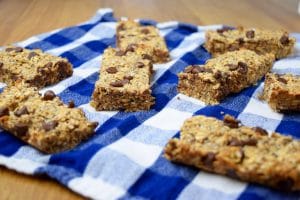 I try to steer clear of packaged snacks. Not only are they usually packed with sugar and additives, they are a source of a crazy amount of packaging. However, packaged snacks are just so darn convenient. Without an easy snack to grab, my snack game needed the bar to be seriously raised.
But I am pretty picky about my snacks. I need them to be tasty, satisfying, and filling enough to hold me over between meals. And that's where granola bars fit the bill. Awhile back I perfected my ideal granola bar and I've pretty much stuck to that formula. This is one my favorite flavors of this perfect, portable snack.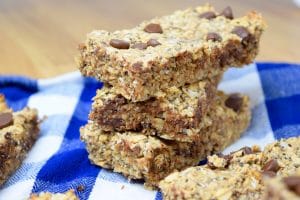 Peanut butter and chocolate are the perfect flavor combination for a snack like a granola bar. These are super easy to make, keep well in the fridge/freezer, and are so crazy delicious. Plus, it's got it all: protein, carbohydrates, healthy fats, low sugar. Yum!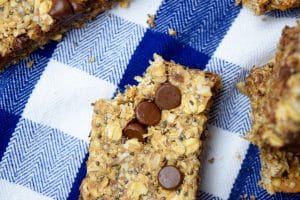 Peanut Butter Chocolate Chip Granola Bars
Ingredients:
2 cups oats (gluten-free or regular)
10-12 dates
3/4 cup peanut butter
1/4-1/2 cup water
1/4 cup chocolate chips
2 Tbsp hemp seeds
2 Tbsp chia seeds
1/4 cup unsweetened shredded coconut
1 tsp cinnamon
1/2 tsp salt (if peanut butter is unsalted)
2 Tbsp coconut oil
Directions:
Preheat the oven to 375 degrees F. Soak the dates in hot water for about 10 minutes. Take out the pits and any rough skin.
In a food processor or blender, blend the dates, 1/4 cup water, and the peanut butter until smooth. Add more water if needed.
In a large bowl, mix together all of the ingredients. It will form a large, thick ball of dough.
Press the mixture into a very greased 8 x 8 inch pan. Bake for about 15 minutes.
Let cool completely and transfer to the fridge to chill for at least an hour. Store in the fridge.