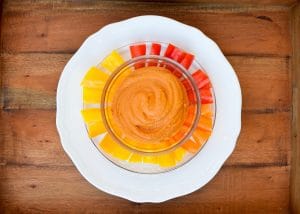 This dip is so easy to make, I felt almost silly posting the recipe. But it's one of our favorite dips, and is fantastic as a sauce on vegetables, burgers, and bowls. For the dip pictured, I just used a generic canned enchilada sauce that I had in the back of my pantry. But this is also amazing with my Easy Enchilada Sauce if you have time to make your own. With the addition of cashews, it created the perfect consistency and flavor.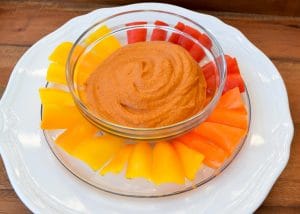 This easy enchilada dip has all the smoky and rich flavors of an enchilada sauce with the creamy substance that a good dip should have. It was hard not to eat the whole batch in one sitting, but we separated it out into a sauce for mushroom burgers and a dip for chips and vegetables. What I love most of all is that this dip is no fuss at all, so you can spend less time in the kitchen and more time eating!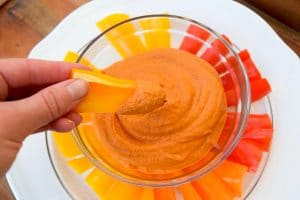 Enchilada Dip
Ingredients:
1 cup raw cashews
1 cup enchilada sauce (canned or recipe below)
Directions:
Soak cashews for at least an hour in hot water. Drain.
Blend cashews and enchilada sauce until smooth. Enjoy!
Easy Enchilada Sauce:
Ingredients:
1/4 cup flour
4 Tbsp olive oil
about 28 ounces crushed tomatoes (either large can or jar)
1 cup vegetable broth
2 Tbsp chili powder
1 tsp cumin
2 tsp garlic powder
juice half lime
1 tsp salt
Directions:
In a saucepan, heat the olive oil over medium heat. Create a roux by stirring in the flour and cooking for about 2 minutes. Add the tomatoes, broth, and spices and stir well.
Simmer for about 15 minutes, stirring every few minutes.
Squeeze in the lime juice and add the salt and turn off heat.