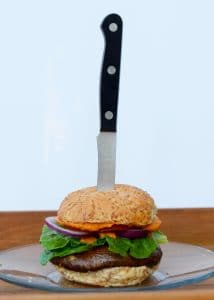 Eating a plant based meal does not mean that you have to give up the glory that is a good burger. The burger, a hearty sandwich-like masterpiece, is a yummy treat of a meal, just like pizza or waffles. I love a good bean or vegetable burger patty, but nothing beats a portobello/portobella mushroom.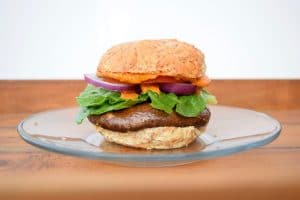 We have to be careful about what buns we get because my husband is so sensitive to sugar. Every burger bun sold in a typical grocery store has sugar, so we have to get our buns from the health food store. Luckily, healthier food is becoming more common. If gluten is something you would like to avoid, gluten free buns are becoming increasingly easy to find.
These portobello burgers are a family favorite. I've always used this marinade with great success because it adds an acidity to the mushrooms that helps to make it meatier. Seriously, you can't go wrong with these delicious burgers. And don't forget the Enchilada Sauce!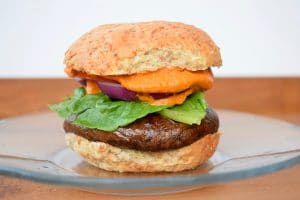 Portobello Burgers
Ingredients:
4 portobello mushrooms
4 Tbsp olive oil
2 Tbsp apple cider vinegar
1 Tbsp mustard
1 Tbsp soy sauce (omit or substitute with gluten free soy sauce for gluten free)
1 Tbsp maple syrup
1 tsp garlic powder
salt and pepper to taste
Burger supplies: burger buns, lettuce, tomato, onion, sauce like my Enchilada Sauce
Directions:
Whisk together the oil, vinegar, mustard, soy sauce, maple syrup, garlic powder, and seasonings. Place mushrooms in a dish and pour over the marinade. Let sit around 30 minutes or so. Add extra oil if needed.
Preheat the oven to 425 degrees F or heat up the grill. If baking, bake mushrooms stem side down for about 15 to 20 minutes. If grilling, grill about 4-5 minutes on each side.
Enjoy mushrooms on burger buns with all the fixings!