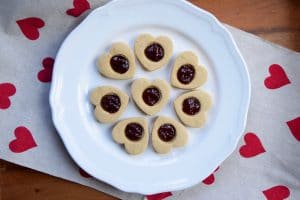 I'm usually a chocolate-only type of girl for Valentine's Day. Hand me a bar of extra dark chocolate and I'm a happy camper. But there is one non-chocolate treat that has my heart: the linzer heart cookie.
Linzer hearts are named after the Linzertorte, which is a delicious Austrian dessert made basically of pastry and jam. While this isn't a traditional Linzer dessert, it certainly can hold it's own.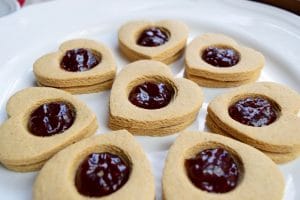 Delicious raspberry (or any flavor you like!) jam is sandwiched between two perfectly sweet and buttery cookies. You'd never guess that these are free of refined sugar and flour because they are melt in your mouth perfect. This cookie is sure to win the heart of your Valentine, even if it's your own!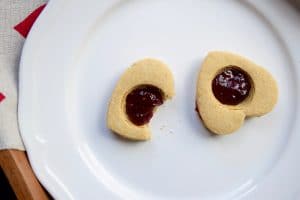 Linzer Hearts
Ingredients:
2 cups whole wheat pastry flour
1/4 tsp salt
1/4 tsp baking soda
4 Tbsp coconut oil or vegan butter
1/4 cup maple syrup
1/3 cup nondairy milk
2 tsp vanilla
1/4-1/2 cup raspberry jam/preserves (look for varieties sweetened with fruit juice or make my Chia Jam using raspberries instead of blueberries)
Directions:
Preheat the oven to 325 degrees F. Mix the flour, salt, and baking soda in a large bowl.
In a separate bowl, mix the coconut oil, maple syrup, milk and vanilla. Pour wet mixture into the dry mixture and mix well. Use your hands to knead the dough.
Using two pieces of parchment paper, roll out the dough between the two. The dough should be about 1/4 inch thick.
Using a heart shaped cookie cutter to cut out your cookies. Cut a small circle or heart out of the center of half of them. Lay them onto a parchment paper or silicone mat covered baking sheet. Bake for about 10 to 12 minutes. Let cool completely on a cooling rack.
Spread jam onto the whole heart and lay the heart with a hole on top. Sprinkle with sugar or enjoy as is!