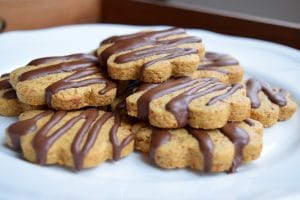 I've been on quite the cookie kick lately. I love how easy cookies are to make and how well a double batch keeps in the fridge for maximum treat time. The cookie recipe that I have today is one of my husband's favorites. Being of Scottish descent, it's no surprise. But these shortbread cookies are a tasty version of the original.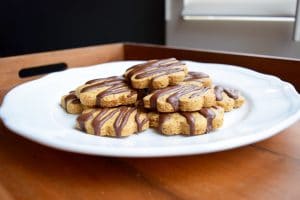 I'll admit, the ratio of fat to sugar to flour isn't exactly a textbook shortbread, but the outcome of a buttery, dense, and satisfying cookie is the same. These shortbread cookies are not only made with whole food ingredients like whole wheat flour and unrefined coconut sugar, they have a special flavor combination.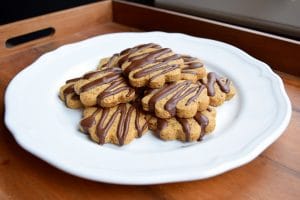 There's something magical about the taste of orange combined with spices. The light, vibrance of citrus is just the perfect match for the deeper and robust quality of spices like cinnamon. And, of course, I had to add in some chocolate.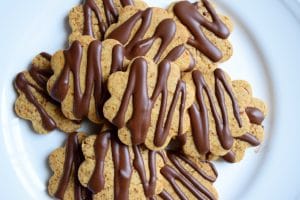 These cookies are easy to whip up and seriously delicious. The coconut sugar does leave little freckles in the finished product, so if that bothers you, switch to cane sugar or even plain old white sugar if it doesn't bother you. These are also so great to make with kids, because what kid doesn't like to cut cookie dough out in fun shapes and then drizzle them with chocolate?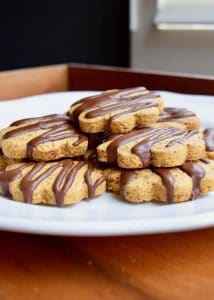 Spiced Orange Shortbread Cookies
Ingredients:
1 1/2 cups whole wheat pastry flour
1/4 tsp salt
1 tsp cinnamon
1/2 tsp nutmeg
1/2 tsp ground ginger
1/3 cup coconut sugar
1/2 cup vegan butter, soft
1 Tbsp orange zest
2 Tbsp orange juice
1/4-1/2 cup chocolate chips
Directions:
Preheat oven to 350 degrees F. In a large bowl, mix the flour, salt, cinnamon, nutmeg, and ginger.
In a separate bowl, whisk together the butter and sugar until smooth. Whisk in the orange zest and juice. Pour the wet into the dry and mix until a smooth dough forms.
Chill the dough for about 20 to 30 minutes. Roll out the dough into a 1/2 inch thick disk and use a cookie cutter to cut out the cookies.
Line a cookie sheet with a silicone mat or parchment paper. Bake the cookies for about 20 minutes. Transfer to a cooling rack and cool completely.
Over a double boiler or using 15 second increments in the microwave, melt the chocolate chips until smooth. Be careful not to scald the cookies and to heat them very gradually, constantly stirring. Either dip the cookies in the chocolate or drizzle over the top. Enjoy!