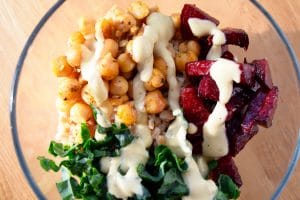 With the toddler wanting to "help" more in the kitchen, I've been all about easy and complete meals. With a meal in a bowl, I can throw some chopped vegetables in the oven, a grain on the stove, and then add in some fresh vegetables, beans, and sauce.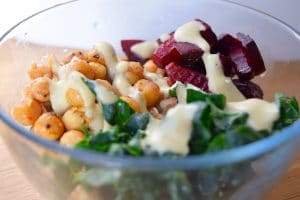 The toddler likes to mix up the sauce, using a mini whisk we have for this purpose. He also likes to measure the grains and add the spices. Plus, when he helps me cook, he gets to sample the vegetables. The trouble usually comes when it's time to wait for everything to cook, which calls for patience that a nearly three year old just does not have.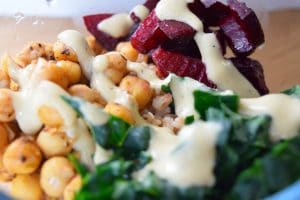 This bowl came together so easily and was super delicious. The mustard in the tahini sauce pairs perfectly with the sweet beets and adds a punch of flavor. Farro is a favorite grain of mine because of it's nutty and rich flavor. It's definitely a simple meal, but it is so satisfying and yummy.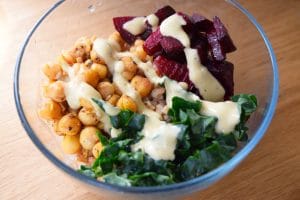 Farro Beet Bowls With Tahini Mustard Sauce
Ingredients:
1 cup farro
2 cups vegetable broth
1 cup kale, chopped
1 can chickpeas, drained and rinsed
1 tsp Italian seasoning
3 cloves garlic, minced
salt and pepper, to taste
3 large beets, diced
4 Tbsp olive oil
For the sauce:
1/4 cup tahini
2 Tbsp dijon mustard
2 Tbsp olive oil or 2 Tbsp water
2 Tbsp maple syrup
Directions:
Rinse and drain the farro. Bring it to a boil with the vegetable broth. Cover and reduce heat to simmer and cook until the farro is tender, about 40 minutes.
Preheat the oven to 400 degrees F. Toss the chickpeas with the Italian seasoning, 2 tablespoons of olive oil and the garlic. Sprinkle with salt and pepper and roast for about 15 to 20 minutes, until golden.
Toss the beets with the rest of the olive oil and some salt and pepper. Roast for about 30 to 40 minutes. Roast the beets at the same time as the chickpeas. Either roast in separate dishes, or add the chickpeas to the dish with the beets about 10 minutes into cooking.
Whisk the tahini, mustard, olive oil, or maple syrup until it's smooth and creamy.
Assemble the bowls: add farro to a bowl and top with the kale, chickpeas, and beets. Drizzle with sauce and enjoy!