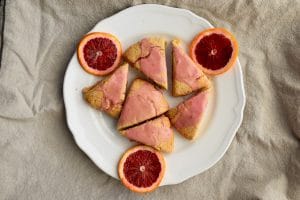 Winter brings a whole lot of delicious treats to the produce aisle: apples, pears, pomegranate, clementines….and blood oranges!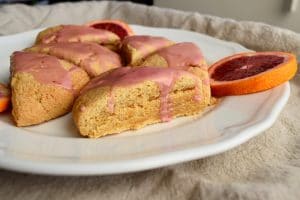 I look forward to these gorgeous oranges all year because they have so many lovely qualities. They taste sweet and citrusy, of course, being oranges. But they also have a slight bitterness that gives the fruit an intensity and depth that makes it a pleasure to eat. They are also incredibly beautiful, with their deep red accents varying from orange to orange.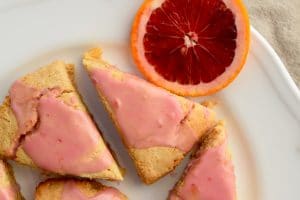 We usually eat through a batch of them before I can do anything else, but I bought extra blood oranges because I was determined to use them in my baking. By making scones with them, I was able to make a pretty pink sugar glaze for the top, but it's totally optional. Omit the sugar for a sugar free treat.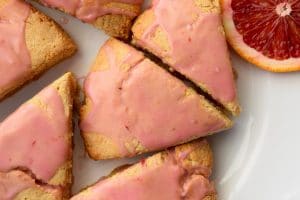 These scones are so scrumptious, not to mention super pretty! The recipe makes eight of these beauties but my son and I each had one before I took the pictures. You know…for testing purposes. So, my photos only have six. And soon after I snapped the photos, a few more went missing. They are just that irresistible.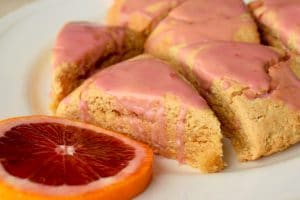 Blood Oranges
Ingredients:
2 cups spelt flour or whole wheat pastry flour
2 tsp baking powder
1/4 tsp salt
6 Tbsp vegan butter
1 chia egg (1 Tbsp chia seeds mixed with 4 Tbsp water)
2 Tbsp maple syrup
2/3 cup freshly squeezed blood orange juice
1 Tbsp blood orange zest
optional glaze:

1 cup confectioners sugar
1/4 cup freshly squeezed blood orange juice
Directions:
Preheat the oven to 400 degrees F.
Prepare the chia egg and set aside to thicken.
In a large bowl, mix the flour, baking powder, and salt. Using a pastry cutter or a butter knife, cut the butter into the flour until it resembles bread crumbs. Make sure the butter is very cold. Using a blender or food processor will work too.
In a separate bowl, whisk together the chia egg, maple syrup, zest and blood orange juice. Pour into the flour mixture and gently combine.
Place batter in one big ball in the middle of a well greased or silicone mat covered baking sheet. Flatten until it is a large disk, about an inch thick. Using a butter knife, cut the batter into eights (do not separate the pieces, leave the batter where it is).
Bake for about 20 minutes, or until the top is golden brown. Separate the triangles and let cool completely.
Prepare the glaze by whisking together the sugar and orange juice until combined. Pour over cooled scones and let harden. Enjoy!