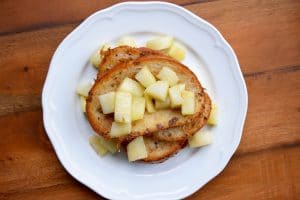 French toast is one of my favorite breakfast foods, so I'm surprised it has taken me so long to post a recipe. But dinnertime is still crazy and stressful, so breakfast foods and desserts have been the easiest to make around here. As soon as the clock strikes 4 pm, the toddler is done and goes into wild, crazy, and whining mode.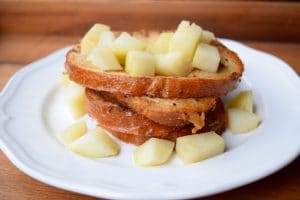 Traditional french toast is made with eggs, which doesn't work when you're eating a plant based diet. I went awhile without french toast simply because it never occurred to me to try to make it vegan. But it's as easy as replacing the eggs with my favorite vegan egg: chia seeds.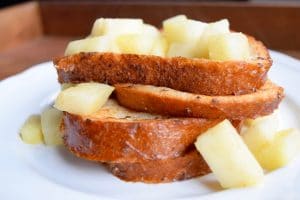 I love the traditional flavors of cinnamon, vanilla, and syrup on a french toast, but it can be fun to change up the flavors a bit. I had some ripe pears to use up, which fried in butter makes a decadent topping. And like cinnamon goes with apples, cardamom goes with pears.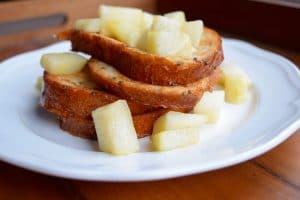 I wasn't sure if the cardamom would be too strong for the toddler, but he gobbled these up, including the extra pear. It was satisfying, sweet, delicious, and super easy. The cardamom and pear makes for an interesting flavor combination that has you going back for more.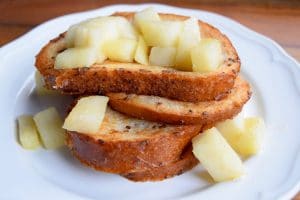 Cardamom Pear French Toast
Ingredients:
8 slices bread (stale bread works nicely for soaking up the liquids, but any will do)
2 cups nondairy milk
2 Tbsp chia seeds
1 tsp cinnamon
2 tsp cardamom, divided
2 ripe pears, peeled and diced
4-6 Tbsp vegan butter or coconut oil
maple syrup, for serving
Directions:
Mix the milk, chia seeds, cinnamon, and 1 teaspoon of cardamom in a bowl and set aside to thicken.
Heat a tablespoon of butter/oil in a frying pan over medium heat. Toss the pear in 1 teaspoon cardamom and pour into the pan. Cook for about 5 to 10 minutes, until the pear is soft. Remove from pan and set aside.
Heat another tablespoon of butter/oil. Dip a slice of bread in the milk mixture, coating both sides. Cook for several minutes on each side in the frying pan until golden brown. Continue to add butter/oil as needed in between slices.
Top the french toast with the pear and drizzle with maple syrup.