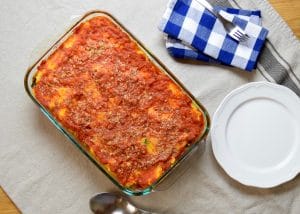 We have been eating polenta a few times a week in various forms. It's one of my favorite grains because, like pasta, it has a neutral flavor and filling qualities. Plus, something so warm and creamy is always delicious.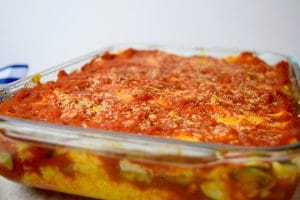 Polenta in casserole form, such as this recipe, is one of our favorite ways to enjoy it. It's an easy and hearty meal that makes enough to have leftovers for the next day. With the toddler so hungry all the time, I love anything that is heavy enough to satisfy a growing boy.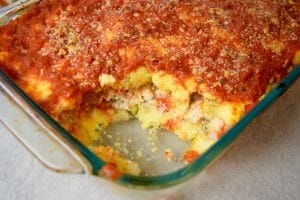 You can use any vegetables that you have on hand, such as spinach or broccoli or kale. For the sauce, I used my  Arrabbiata Sauce which was amazing with the creamy polenta and ricotta, but any favorite tomato sauce is fine.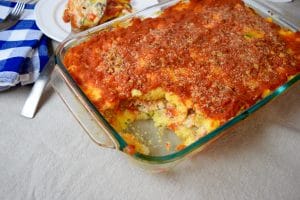 Polenta Casserole
Ingredients:
2 cups polenta cornmeal
8 cups water
2-3 Tbsp vegan butter or olive oil (for polenta)
2 medium zucchinis, finely chopped
1 red bell pepper, finely chopped
1 lb mushrooms, finely chopped
1/2 onion, finely chopped
3 cloves garlic, minced
2 Tbsp olive oil (for vegetables)
1 cup raw cashews, soaked for at least an hour
4 Tbsp olive oil (for cashew ricotta)
3 garlic cloves (for cashew ricotta)
juice of half a lemon
1 tsp Italian seasoning
salt and pepper, to taste
4 cups prepared tomato sauce
2-4 Tbsp nutritional yeast
Directions:
Begin the polenta by bringing 8 cups of water to a boil. Slowly whisk in the polenta to prevent clumps. Turn the heat down to simmer and continue to cook, stirring frequently, for about 30 to 40 minutes. When the polenta is creamy and thick, turn off the heat and stir in the butter/oil.
Heat the olive oil in a saute pan over medium heat. Add the onion and cook until it starts to soften. Add the garlic, zucchini, bell pepper, and mushrooms and cook for about 5 to 10 minutes, until vegetables are soft and cooked. Season with salt and pepper.
In a blender, combine the cashews, garlic cloves, lemon juice, Italian seasoning and salt and pepper. Blend until smooth and creamy, adding a few tablespoons of water or milk if too thick.
Preheat the oven to 400 degrees F. Grease a large casserole dish well. Spread half the polenta on the bottom of the pan. Spread the vegetables on top in an even layer. Pour the ricotta over the vegetables and smooth over, covering evenly. Pour 2 cups tomato sauce over the ricotta.
Cover with the remaining polenta in an even layer and top with the remaining tomato sauce. Sprinkle with nutritional yeast and bake for about 20 minutes, until bubbly and hot. Enjoy!