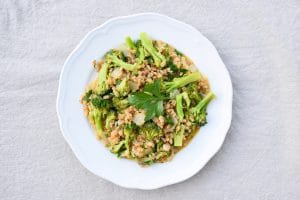 Spring is here! As a celebration, I have a fresh and green, yet hearty and filling recipe for you.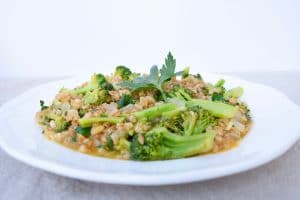 I make risotto quite often because it's one of those always delicious and comforting meals. It's easy to pick and choose seasonal ingredients and adapt to what you have on hand. While risotto is traditionally made with Arborio rice, farro is a lovely Italian grain that adds a unique nutty flavor and chewy texture to the classic dish.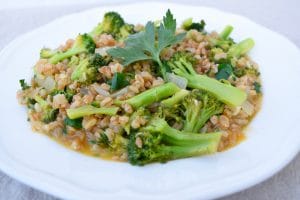 Lemon and broccoli are one of my favorite flavor couples, and it's perfect for springtime. But this would also work well with zucchini, peas, or even just a handful of kale!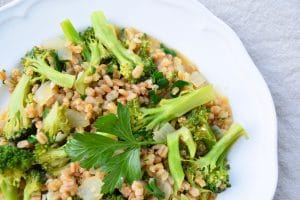 Farro Risotto with Lemon and Broccoli
Ingredients:
1 small onion, diced
3 cloves garlic, minced
2 Tbsp olive oil
2 cups farro
1/4 cup dry white wine
6 cups vegetable broth
juice of 1 lemon
3-4 cups chopped broccoli
salt and pepper
parsley, for serving
Directions:
Heat the olive oil in a large pot or dutch oven over medium heat. Add the onions and cook until softened. Add the garlic and cook for a minute or two, just until fragrant.
Add the farro and coat well with oil. Cook to toast for about 2 minutes. Add the wine and cook until completely absorbed.
Add the vegetable broth 1 cup at a time, stirring frequently. Once the cup has been absorbed, add the next one. After 3 cups, add the broccoli and stir well.
Continue to add liquid until all broth is used and the farro and broccoli are soft. Turn off the heat and stir in the lemon juice. Enjoy with fresh parsley.