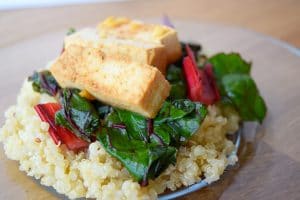 One of my favorite ways to cook rice or quinoa is in coconut milk. It transforms the grain into a creamy and slightly sweet masterpiece that's honestly just fine on it's own. With a bit of sweetener and some fruit, it's dessert or breakfast! Add a bit of lime and you've got the perfect base for a whole range of savory flavors.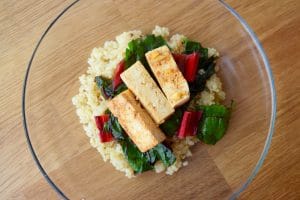 I don't cook tofu very often, but we do love it around here. Like a grain, tofu serves as a blank canvas for flavor. The perfect match for a sweet and creamy base is naturally a tangy and spicy tofu. Add a bit of green and you've got yourself a complete meal.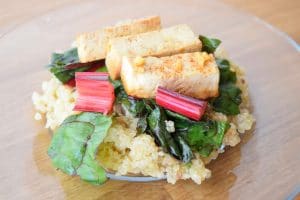 What better meal for warming weather and sunshine?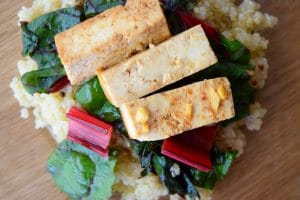 Coconut Lime Quinoa
Ingredients:
1 cup quinoa
1 cup coconut milk
1 cup water
1 lime, juiced and zested
Directions:
Bring the quinoa, coconut milk, and water to a boil in a saucepan. Turn the heat down to simmer and cook until all the liquid is absorbed, about 20 minutes.
Stir in the lime juice and zest and enjoy!
Sriracha Tofu With Greens
Ingredients:
1 block extra firm tofu, cubed
3-4 cups leafy greens like swiss chard, chopped
1/4 cup tamari
3 cloves garlic, minced
2 Tbsp Sriracha sauce
1 Tbsp rice vinegar
1 Tbsp maple syrup
2 Tbsp coconut oil
Directions:
Prepare the tofu and vegetables and set aside. In a small bowl, whisk together the tamari, garlic, Sriracha, rice vinegar, and maple syrup.
Heat the coconut oil in a saute pan over medium heat. Cook the tofu on all sides for about 5 minutes. Add half the tamari mixture and continue to cook for another 5 minutes. Remove from the pan.
Add the greens and the rest of the tamari mixture to the saute pan and cook for about 5-8 minutes, until the greens are wilted. Serve with the tofu on top of a grain like Coconut Lime Quinoa.