Sometimes you just need scones for breakfast. They are warm, soft, and buttery and the perfect way to start the day. This is especially true if you are not a morning person, like me, and could use the extra comfort when starting the day.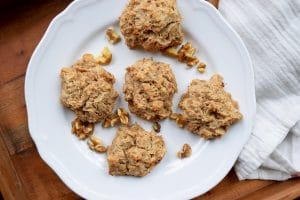 I normally make scones into the classic triangle shape, but I was feeling particularly lazy and wanted to try some free form scones straight onto the baking mat. It was an experiment that was quite successful. The scones were moist, flaky, and the perfect consistency.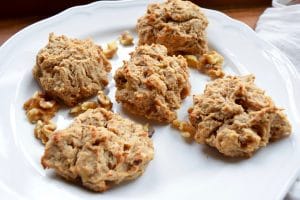 The banana gives the scones a pleasant sweetness while serving as an egg substitute. And the walnuts give the scones a satisfying crunch and full bodied flavor. What better way to start the morning than with banana nut scones?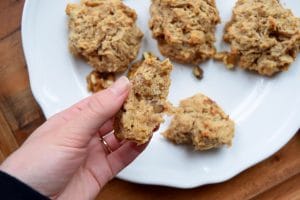 Banana Walnut Scones
2 cups whole wheat pastry flour
2 1/2 tsp baking powder
1 tsp cinnamon
1/2 tsp ginger
1/2 tsp salt
1/4 tsp nutmeg
5 Tbsp vegan butter or coconut oil, cold
2 ripe bananas, mashed
1/3 cup almond milk
1 Tbsp maple syrup
1/2 tsp vanilla extract
1/2 cup chopped walnuts
Directions:
Preheat oven to 415 degrees F. Line a baking sheet with parchment paper or a silicone baking mat.
Mix the flour, baking powder, cinnamon, ginger, salt, and nutmeg in a bowl. Transfer to a blender or food processor and add the butter. Pulse until the mixture is crumbly. Or, use a pastry cutter to cut the butter/oil into the dry mixture.
Mix the bananas, milk, maple syrup, and vanilla in another bowl.
Pour the dry mixture from the blender back into the first bowl. Add the wet mixture. Stir until combined, but do not overmix. Gently fold in the walnuts
Form into a round mounds on the baking sheet.
Bake for 20 minutes and let cool on a baking rack. Serve warm with butter and jam.