We ordered two EZPZ mats: the EZPZ Mini Mat in Coral and the EZPZ Flower Play Mat. This is a review of both. Both mats are made from non-toxic silicone and are dishwasher and microwave safe. Plus they come in a variety of colors! Mine are from The Baby Cubby.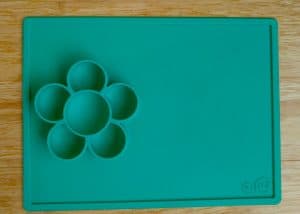 EZPZ Mini Mat:
When my son was a baby and young toddler, we went through quite a few plates. He broke the plastic ones easily, which wasn't a huge deal since I don't like when he eats from plastic anyway. But stainless steel and tempered glass weren't his favorite, he wanted to eat off of the same plates that we did.
When I was reached out to in order to do a review of EZPZ mats, I was intrigued and curious to how an older toddler would like it. I honestly wasn't sure how my son would like this, but I'm really glad we have it now. My son is 3 years old and uses regular plates and utensils during meal and snack times.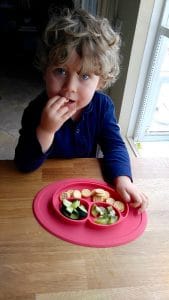 My son loves this mat. He calls it the "happy face plate" and requests it for all meals and snacks. And although I thought that it might be too little for him, I think having the portions small helps with pacing his eating. He eats quite a bit of food, so I do have to refill the plate, but he sits through mealtime so I can't complain.
For snacktime, it's actually been helpful for me. The little compartments remind me to create balanced snacks with fruits, vegetables, carbohydrates, and protein rather than just throwing what I could find on a plate. He's actually more likely to eat the vegetables from this cute plate, major bonus!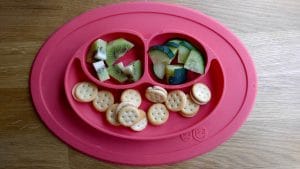 Another thing I love about this mat is that it's portable enough to bring to restaurants. Eating out with a kid can be difficult, especially when trying to use regular adult plates. But bringing this mat, you can portion out a bit of food for them and not worry about flying plates or eating off of a dirty table. Plus, I like to order my son the healthier options from the adult menu, and this mat makes it easier than plopping an adult size portion in front of him.
I can see this mat being especially great for babies/young toddlers because the portions are small and it's organized in a cute way. It does stick to the table, but my son easily figured out how to pick it up. So whether or not it will stay on the table I think depends on the child.
I highly recommend this mat, especially for babies and picky eaters.
EZPZ Flower Play Mat:
As soon as I saw this, I knew we needed to have it. Because the material is food safe, it can be used for snacks, but I got it with the intention of using it for arts and crafts.
Before getting this mat, I would put paint and art supplies in small reusable plastic cups. But this was practically an invitation for a small child to pour the cups contents out and together. It was very frustrating. We tried a few palettes, but they were too shallow and just as easy to pour out.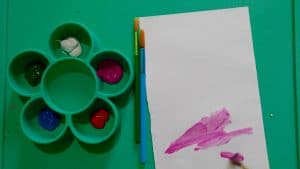 I absolutely love that that the little compartments are attached to the mat where the paper rests. This means that my son is less likely to try to pick up the whole mat and dump everything out. It also keeps him from getting frustrated that he's ruined all of his paints.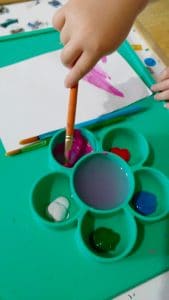 As he gets older, I can see this being great for everything from beads to perler beads to even legos. The only thing I would change about this, is I wish the side for the paper were bigger. I have to cut down paper quite small if I want to keep it on the mat, which can be a bit constraining to young children who are still working on motor skills. It's a bit cumbersome to wash by hand, but it cleans off very easily.
I also really recommend the Flower Play Mat, especially if your child loves art.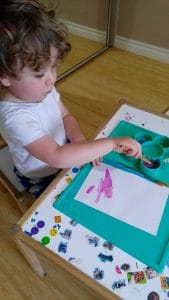 Both of these products can be found at The Baby Cubby. They were very helpful and the shipping was incredibly fast. They also have a wide variety of toys, baby supplies, mama supplies, and gear.
*Disclaimer: These were generously gifted to me for a review. This is an honest review and all of the opinions on these products are my own.