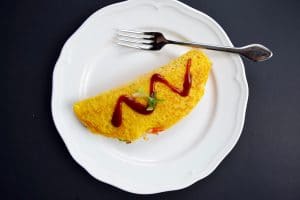 My husband and I love Japanese food. We are constantly trying new things and attempting variations at home because the flavors are always so delicious. We were watching a show on Netflix called "Midnight Diner: Tokyo Stories". It's basically about a late night diner in Tokyo and each episode centers on a different character and a particular dish.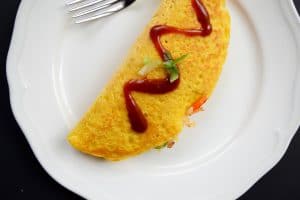 One of the episodes featured Omurice, or a fried rice omelette. This was something we had to try. Everyone loved this dish, but who doesn't love anything with fried rice?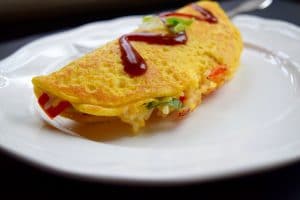 This dish is especially great for breakfast with leftover fried rice, but it's also totally worth it to whip up a fresh batch of rice. Feel free to change the vegetables in the fried rice, using veggies like broccoli, celery, zucchini, whatever! The sauce on top makes these extra special and adds a delicious boost of flavor.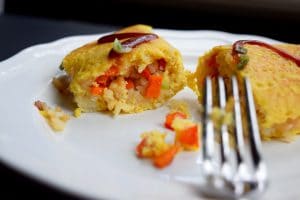 Vegan Omurice
Ingredients:
Fried Rice:
2 cups cooked short grain rice
4 Tbsp grapeseed oil
3 carrots, finely chopped
1/2 onion, finely chopped
1 red bell pepper, finely chopped
1/2 cup peas
1/2 cup chopped scallions
2 cloves garlic, minced
1 Tbsp chopped fresh ginger
2 Tbsp soy sauce or tamari
1 tsp sesame oil
Chickpea Omelette:
1 cup chickpea flour
1 cup water or nondairy milk
2 Tbsp nutritional yeast
1 tsp turmeric
1 tsp garlic powder
1/2 tsp salt
1/2 tsp baking soda
Okonomiyaki Sauce:
4 tbsp ketchup
2 Tbsp vegan worchestershire sauce
2 Tbsp tamari
1-2 Tbsp maple syrup
Directions:
In a large saute pan, heat a few tablespoons of oil over medium heat. Add the onion and cook until it starts to become translucent. Add the bell pepper and carrots and cook for several minutes more. Stir in the peas, garlic, and ginger and cook until the vegetables are soft and fragrant.
Add in the rice with the soy sauce and sesame oil. Continue to cook for 5 minutes, stirring frequently. Turn off the heat and stir in the scallions. Set aside.
Mix all the ingredients for the chickpea omelette in a large bowl until combined and smooth. Heat a few tablespoons of oil over medium heat and add enough batter to form a medium to large circle (depending on how big you want your omelette). Cook until the top is bubbly and nearly solid.
Add a few large spoonfuls of fried rice to one side of the omelette. Fold the omelette in half and continue to cook for about 2 minutes, gently flipping once if necessary. Repeat until batter is used up.
In a small bowl, whisk together the sauce ingredients. Serve the Omurice with Okonomiyaki sauce and garnish with scallions. Enjoy!