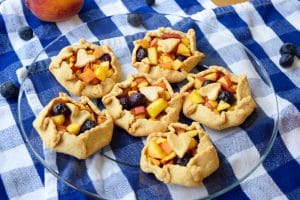 This has been a great summer for fruit. I feel like I've had more peaches, blueberries, and cherries than any other summer. While most of the fruit has been devoured raw, I managed to save some for baking treats.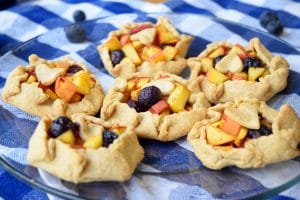 It can be tough to bake during the summer, however, with the unrelenting heat. Those close to me know how much I dislike long and hot days. But if a day is cool enough to withstand the oven for an hour, I will bake with the hope of cooler days ahead.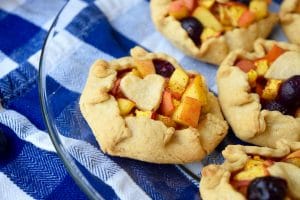 Galettes are the perfect canvas for summer fruit. They are easy to make and very unfussy. Plus, they let the filling of ripe peaches and blueberries to shine on their own. These would be perfect for a late summer BBQ or picnic!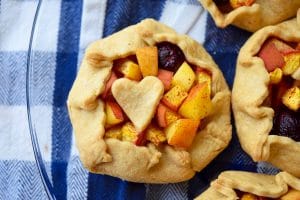 Mini Blueberry Peach Galettes
Ingredients:
1 1/4 cup whole wheat pastry flour
1/2 tsp salt
1/2 cup vegan butter or coconut oil
1/4 cup cold water
2 ripe peaches, finely diced
3/4 cup fresh blueberries
1 tsp cinnamon
1 Tbsp coconut sugar
Directions:
Preheat the oven to 400 degrees F. In a large bowl, mix the flour and salt. Cut the butter into the flour using a pastry cutter or a food processor until it looks like bread crumbs. Pour the cold water into the mixture and combine until a dough forms. Chill until ready to use.
Prepare the filling by mixing the peaches, blueberries, cinnamon, and sugar in a bowl.
Roll the dough out into about 1/4 inch thick disk. Using a round cookie cutter or large glass, cut out as many circles as you can from the dough. Spoon the filling onto the rounds, leaving a border of dough. Fold the extra dough over the sides of the galettes. I like to use the extra dough for little shapes on top of the galettes, but this is optional.
Place the galettes onto a baking sheet covered in either parchment paper or a silicone baking mat. Bake for about 20 minutes or until the galettes are golden and the filling is hot.